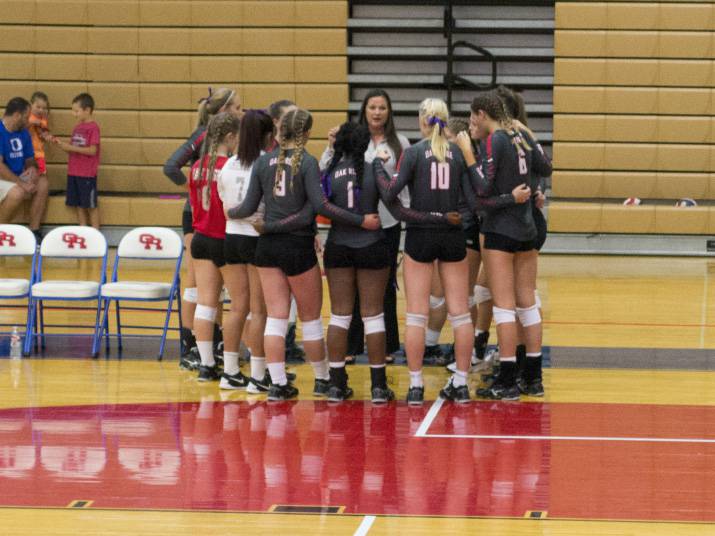 THE WOODLANDS, Texas — The 2015 state runner-up Oak Ridge Lady War Eagle volleyball team started their 2016 quest to make it back to the state tournament Tuesday night against the Willis High School Lady Wildcats. After dropping the first set 24-26, Oak Ridge came back to win the next three, 25-12, 25-17, 25-11.
Tied 16-16 in the first set, Willis tipped over a shot out of the reach of senior right side hitter, Hannah Mikelonis to put the Lady Wildcats 16-17, causing head coach Tommie Lynn Sledge to call a timeout. Willis came out after the timeout to serve the next ball out, to tie the game back 17-17.
Mikelonis, who hit outside last year, is filling a new role this year.
"Moving Hannah to the right side this year has been great," Head Coach Tommie Sledge said. "I think she brings another aspect to the game where we are a heavy three sided hit. We're gonna keep teams really honest and that's our goal."
A serve out by Oak Ridge followed by a kill and an ace by senior outside hitter Brooke Clark, put the Lady War Eagles back in the lead 19-18. Clark would continue to serve until a kill by Willis ended the Lady War Eagle run, 23-19.
After some unforced and communication errors by Oak Ridge, Willis came back to tie the game 23-23. A kill by junior middle blocker, Molly Russell, gave the advantage back to Oak Ridge, but Willis tied it back at 24 with a kill of their own. A Willis kill off the block brought them back in the lead at 24-25. Sledge called her second timeout of the set. After the timeout, Willis ended the set with a kill, 24-26.
"We had three separate occasions that we gave up 4 points or more and that is not we do not do," Sledge said. "That is what we practice, that's our mind set, that we don't give up chunks of points and we did that in the first game. Willis did a great job of staying on top of us in that first game and doing exactly what I wanted my team to know, other teams are going to do to us if we allow them to get chunks of points."
The score of the second set stayed close until sophomore defensive specialists, Ashlyn Cianciulli got the serve. She served from when the score was tied 5-5 until The Lady War Eagles led 11-6. The Lady War Eagles kept their offense rolling until the score was 17-8, forcing the head coach of the Wildcats to call a timeout.
"Ashlyn played very well, served aggressive and that's what she does," Sledge said. "That is what I am most proud of to see her come out and have no fear."
Despite the timeout, the Lady War Eagles weren't rattled and allowed the Lady Wildcats to only score four more points to win the second set 25-12.
In set three, Oak Ridge started out with the lead and never gave it up. With the score 13-8 Willis called a timeout to try to put a stop to junior outside hitter, Shae Green's serve. After one more successful serve by Green, the Lady Wildcats got a point on a kill to bring the score to 14-9. The Willis coach called a timeout with the score 22-15, and the Lady Wildcats would score only 2 more points before Oak Ridge reached 25, ending the third set, 25-17.
Willis came out with their first lead since the first set, 0-4 until Mikelonis hit a kill down the line to make it 1-4. With senior middle blocker Hailey Lohnes serving, Oak Ridge overcame the early deficit when Willis called a timeout, down 7-5. Lohnes continued to serve until a kill from Willis brought the score to 12-6.
After scoring only one point since the last timeout and allowing 9, the Willis head coach called her second of the set with the score 16-6. Green played great all the way around and served the winning point to 25-11. Green also led the team in kills for the match with 12. Clark was second with 11 and Mikelonis was third with 10.
Coach Sledge praised Green's play in her first varsity match.
"She is a player that has no fear but I think that it hit her having a big block out there in front of her, which Willis did have a very big block," Sledge said. "But I think she embraced it and I do see her just continuing to get better every game. She's a worker and she fits in very well."
The Lady War Eagles are set to play in the Nike Volleyball Classic this Thursday through Saturday, with a match against former district opponent, Kingwood on Friday. District will start for the Lady War Eagles in a few weeks, and with the district realignments over the summer, Coach Sledge is excited for the challenge of new opponents.
"I do feel like it is very competitive all the way through," Sledge said. "I don't thing there's anybody we can sleep on. And I do know, and the girls do know when you're in the situation to come off a season like we've just come off, everybody wants to beat you so you're going to have to bring your best every game. And they're up for the challenge on that."
However, Coach Sledge said she's most looking forward to getting to work with a new group of girls.
"Every group of girls and every year is different we had such a special group last year and we're going to miss those seniors tremendously," Sledge said. "But I love with a new team getting to bond with them and figure out what they like and what they don't like and how to get onto them and keep them high. It's just fun for me as a coach to truly embrace each group and learn about them and how they click so that I can be the best coach I can be for them."