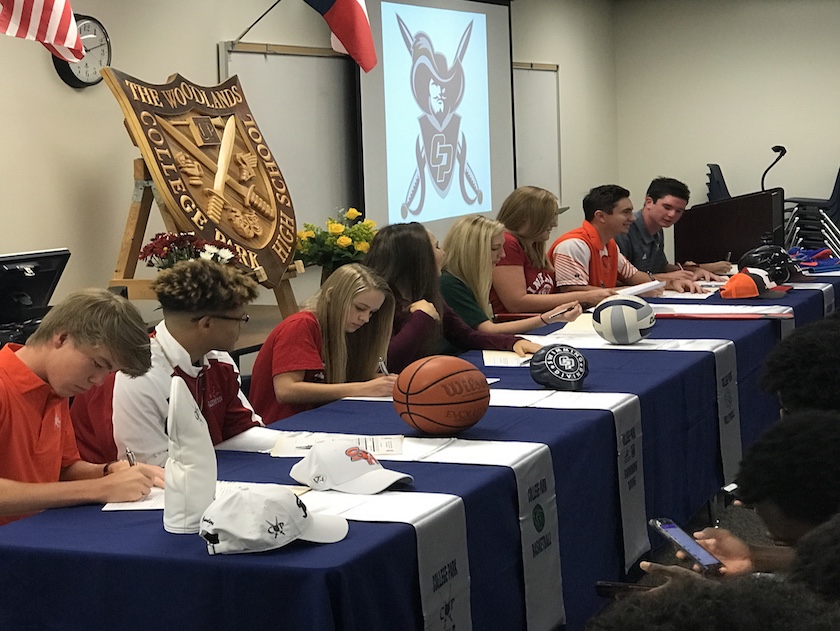 THE WOODLANDS, Texas-- Every student-athlete's dream is to one day be awarded a scholarship to a university to play his/her sport. Today for dozens of Conroe Independent School District students, their dream has come true.
The amount of pure joy and happiness from everyone to the coaches, parents, and anyone who impacted these student athlete's lives was palpable inside the venues.
The day started with College Park High School having nine athletes ink their signatures on their National Letters of Intent. As Cavalier athletic director and head football coach Lonnie Madison congratulated the parents and coaches for helping the student-athletes achieve their goals, the emphasis was on the kids. "Competing at the next level is a tremendous accomplishment – you all have set an example on what it takes to get here." Madison had to say this morning to the soon to be college athletes.
From one District 12-6A school to another, Oak Ridge held their ceremony in their gym, packed with students and family. Sixteen made their choice on where to attended and were shown off to the student body. Thanks to the sixteen talented students, Oak Ridge was able to forget academics for a little bit and rejoice in the accomplishments of their peers.
Congratulations to all signees over the country but a special shoutout to those in our community!
College Park
CC Clausen, South Florida Volleyball
Jayna Dolfi, Indiana Rowing
Kaylee Frantzen, Incarnate Word Diving
Mackenzie Nunes, Springfield Volleyball
Jack Randle, Sam Houston State Golf
Luke Repka, Sam Houston State Baseball
Shannon Scott, Labette Basketball
Luke Trahan, Dallas Baptist Baseball
Zack Williams, Oklahoma Cross Country/Track
Oak Ridge
Carly Graham, Rice Volleyball
Molly Russell, Charleston Voleyball
Daphne Scheck, New Mexico Diving
Brooke Beddingfield, North Texas Swimming
Hailey Wallett, Texas Rio Grande Valley Track
Raelynn Hardgrave, Tarleton State Golf
Makenzie Mays, Texas A&M – Kingsville Softball
Haley Nillen, Auburn Softball
Autumn Sydlik, Houston Baptist Softball
Kim Manuel, Ball State Softball
Aiyanna Freeney, Virginia Weslyn Softball
Rhian Journey, SAGU Softball
Kyle Conley, New Mexico Baseball
Kevin Conley, New Mexico Baseball
Chase Roberts, Texas Baseball
Austin Brown, Cedarville Baseball
The Woodlands High School will have their Signing Day ceremony in February.