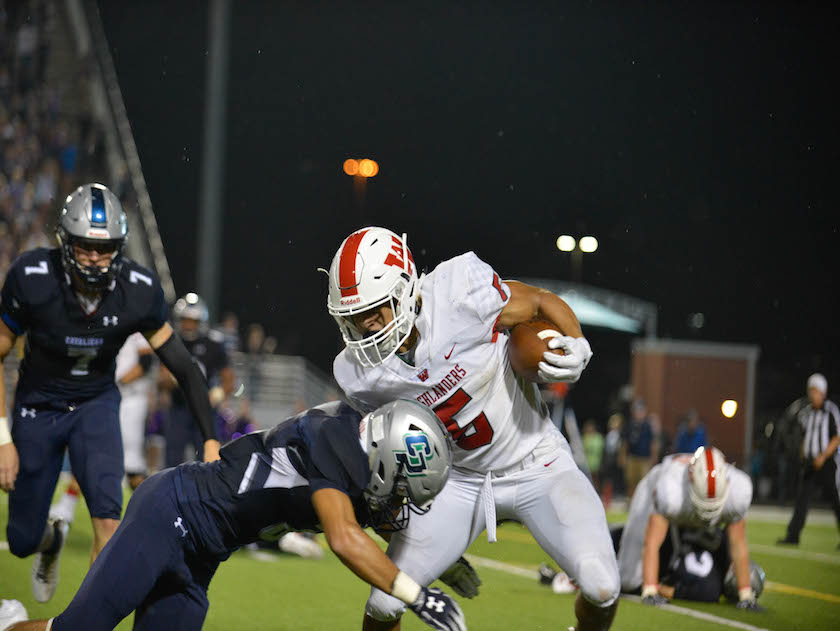 THE WOODLANDS, Texas— Friday night's game between The Woodlands and College Park got an earlier kickoff date than usual this season, as The Woodlands was able to knock off an enthusiastic Cavalier team in the second week of District 15-6A play, 24-17.



The first half went the Cavaliers way with a Bryeton Gilford fumble early in the game. Gilford, who looks the next in line to follow the tradition of productive running backs for the Highlanders, would redeem himself by game's end. The Cavs were able to cap off the turnover with a field goal from their heavily recruited kicker, Carson Mohr.

As the Cavalier defense was able to keep The Woodlands offense at bay, College Park junior running back QuaJon Charles extended the Cavs lead 10-0 at the end of the first quarter. While a couple three and outs by both teams followed, The Woodlands began to find their offensive rhythm. The Highlanders drove the length of the field, and with the first of two touchdowns from Gilford, The Woodlands and College Park were tied up at 10.

Going into the fourth quarter, still tied, Cavalier quarterback Jake Hunnicutt threw an unwarranted pass that was picked off by Alex Atabong. The turnover led to a Casey Sunseri touchdown run off a busted play. The Highlanders took the late lead 17-10. No more than 3 minutes after the interception by Hunnicutt, he found Mark Thompson for the game-tying score.

All signs pointed to the Cavs getting their first victory over the Highlanders since 2007. College Park handled adversity well, but it was the Highlander running back who would have his day. Bryeton Gilford capped off his rollercoaster night with the game-winning score.

"Games like this build experiance" said Cavalier Head Coach Lonnie Madison after his team come up just short Friday night. We'll see how this team responds as the season progresses, but for now, a 3-1 record seems to be a good start. As for the Highlanders, they've shown they can handle almost anthing thrown at them. "We had to remind ourselves that we've been here before." Highlander Coach Jim Rapp after a lackluster first half. The Highlanders move to 2-2 on the season.



The College Park Cavaliers couldn't hold off the late surge by The Woodlands Highlanders, losing 24-17. Our broadcast will be brought to you by The Woodlands Dental Group with replays presented by Stewart Land Designs. Check out the "Games On-Demand" section of Woodlands Online Sports for stats, recaps, and highlights.