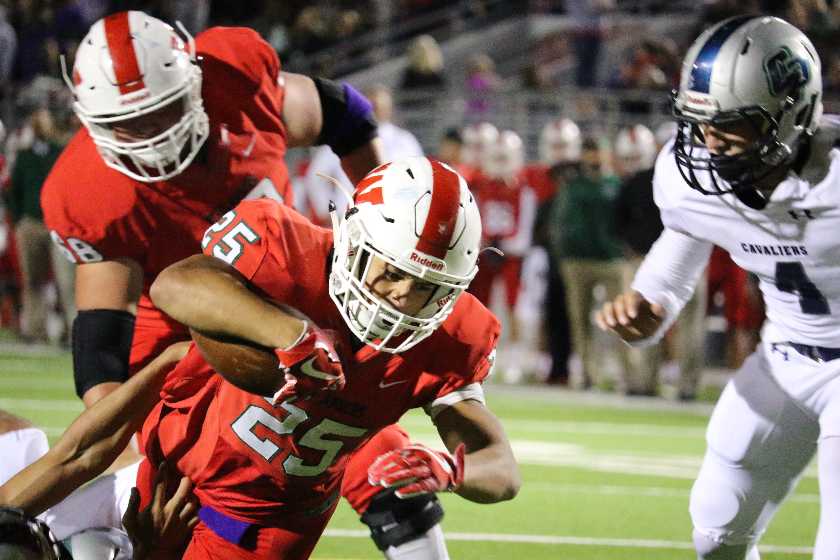 THE WOODLANDS, Texas - Coming off an unforgettable road battle with Conroe last Friday, College Park High School faces their toughest test against cross-town rival The Woodlands High School. The Oak Ridge War Eagles are in the District 15-6A, same with The Woodlands High School. These two rivals will face off Friday September 24th at Woodforest Bank Stadium.

The Cavaliers are coming into this week 3-0 and looking to get their first district win. They will play the 1-2 Highlanders, who are coming off their first win of the season against the Oak Ridge War Eagles. With the division forming into fruition and playoffs around the corner, the Cavaliers are eager for their first district win of the season, to push their season record to 4-0.

Coach Lonnie Madison's offense has been the Cavalier's bright spot. With standouts QuaJon Charles, Jake Hunnicutt, Peyton Sobosle, Tyler Givens, Aaron Randle, Cameron Mohr, and Joshua Bankhead. The Cavaliers have a tough task ahead of them, as they square off with arguably the best running backs in the CISD.

The Woodlands Highlanders running back Breyton Gilford is topping his yards and touchdown totals from last season. With a strong offensive line, The Woodlands Highlanders will focus on their offensive weapons Casey Sunsari, Breyton Gilford, P.J Villarreal, Malik Johson, Cody Johnson, Ben Mills, and Fabrizio Pinton.

On the other side of the ball, the Cavaliers have given Jake Hunnicutt the keys to the offense. The senior quarterback has accounted for nearly 500 yards this year in his second season as the starting varsity quarterback. Hunnicutt has found success finding the big target, Peyton Sobosle who has been the recipient of all his touchdown passes. The Cavaliers 6 foot 4, 220-pound UTSA commit, has been on a tear. Scoring two touchdowns against, Aldine Benjamin Davis and Conroe Tigers, Peyton has solidified himself as an offensive threat, passing and blocking for the Cavaliers offense.

The constant motor in the Highlanders offense has been the senior receiver, P.J Villarreal. The Highlanders' wideout caught five passes for 114 yards and four touchdowns during a lopsided victory against Oak Ridge High School. "We were on a losing streak and a lot of these guys at The Woodlands hadn't lost three games in our whole career," Jim Rapp told the media, following the Oak Ridge win.

With the first win of the season coming in district play, The Highlanders will now put the two loses in the past and move forward. College Park Cavaliers are new to fast starts, and with a three-game streak, the Cavaliers are looking to rewrite history, and start the season 4-0 as they take on The Woodlands Highlanders this Friday, September 24th at Woodforest Bank Stadium.

Our broadcast will be brought to you by The Woodlands Dental Group with replays presented by Stewart Land Designs. Check out the "Games On-Demand" section of Woodlands Online Sports for stats, recaps, and highlights.