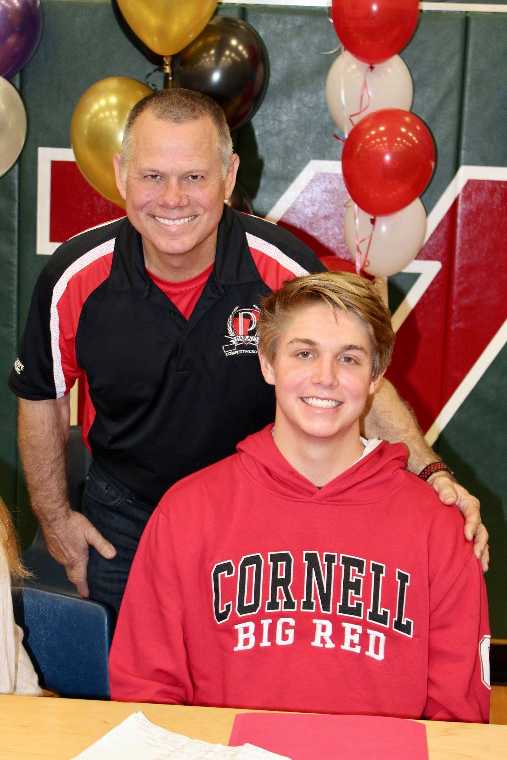 THE WOODLANDS, Texas -- Robert 'James' Robinson II, a senior at The Woodlands High School, has been admitted to Cornell University class of 2023. Robinson has been recruited to row in the Ivy League for the Cornell Men's Heavyweight Rowing Team.

Robinson will be majoring in Economics and has interest in business, politics, and law.

"I am excited to attend this amazing Ivy League School. I chose Cornell for the world class academics, the incredible rowing team, and the amazing coaching staff. I am looking forward to going to college in Ithaca, New York. I really enjoy outdoor sports and I am eager to try all the winter ones as well! GO BIG RED!" - James Robinson

Robinson has had much success in rowing events and with indoor erg competitions all over the nation. He was selected by US Rowing for the 2017 Youth Regional Challenge Team held during the World Rowing Championships. In 2018, he participated at the Men's Under 19 Junior National Rowing Team High Performance Winter Camp in Sarasota, Florida. That same year, Robinson placed 6th out of 171 in his division at the C.R.A.S.H.-B. Sprints World Indoor Rowing Championships in Boston, Massachusetts. During high school, Robinson won many gold, silver, and bronze medals in many different events at various Regattas in California, Florida, Ohio, Oklahoma, Tennessee, and Texas. His pair won 11th in the Nation at the 2018 US Rowing Youth Nationals at Lake Natoma in Northern California. He was also chosen to train and compete at the prestigious Men's Under 19 Junior National Rowing Team Selection Camp held for a month last summer at The United States Olympic Training Center in Chula Vista, California.

This 6 foot 5 athlete trains and competes throughout the year with the Parati Competitive Rowing Team of The Woodlands, Texas.