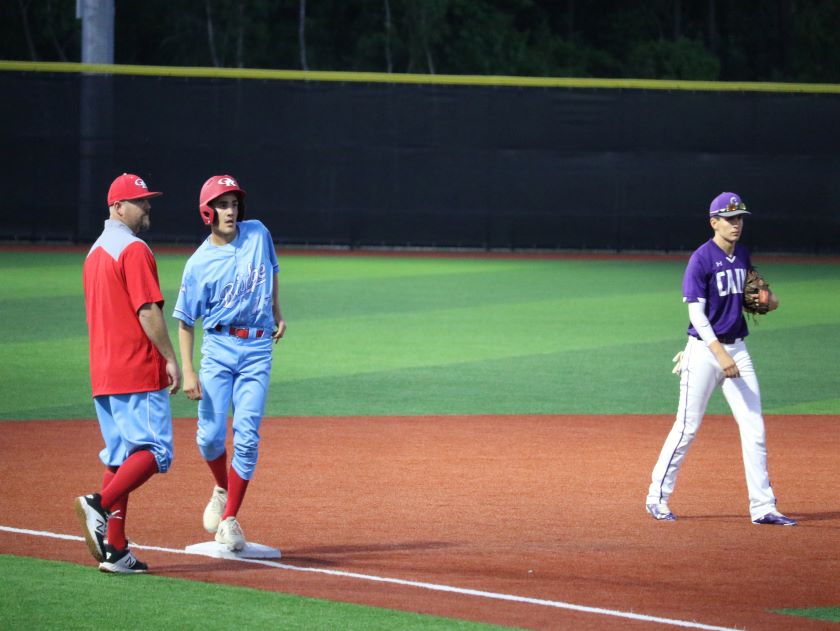 SPRING, TX -- Stormy weather caused most of District 15-6A to postpone Thursday's games due to poor field conditions. Fortunately for Klein Cain and Oak Ridge, they were able to move their game from Klein Cain over to the new turf fields at Grand Oaks High School. However, once the game was underway, Klein Cain probably wished this game was postponed as well.

Four War Eagle pitchers combined to blank the Hurricanes as Oak Ridge beat Klein Cain 8-0. Oak Ridge now has six shutout wins on the season, four of them have come in their last four games. Continuing to keep opponents off the scoreboard while scoring runs with ease will be a key factor in the War Eagles playoff run that will begin in a few weeks.

The ace for the War Eagles, Logan Letney, got the start in Thursday's game and put together another strong performance. Letney was on the mound for five innings and racked up 10 strikeouts. Letney had no problem with the Cain batters. It wasn't until two-thirds of the way into the bottom of the fourth inning when Klein Cain finally picked up their first hit of the game. Vinny Saumell was able to reach third on a well-hit ball into right field for the Hurricanes' lone hit of the game.

Getting on base was not an issue for the Oak Ridge offense. The War Eagles finished Thursday's game with 11 hits and reached first base eight more times thanks to a couple of errors, three walks, and three batters hit by pitches. Carson Ogilvie lead the team offensively with two hits and two RBIs. Ogilvie's two-out double in the top of the third drove in two runners to break the game open and add to the War Eagles momentum. In the fifth, Zach Easterling smacked a line drive shot over the wall in right field to put the exclamation point on Oak Ridge's 18th win of the season.

Closing the game out was a group pitching effort for the War Eagles. After Letney's five innings, Colby Wyers came in and struck out two batters before handing the ball to Colby Cooke. Cooke took care of two of the three outs in the final inning, but a leg injury forced him to leave the game. Blane Romero stepped in and threw three strikes to bring the game to a close.

Next week, the War Eagles will return home to host the Klein Bearkats. First pitch is scheduled for 7 p.m.