/

/

Montgomery County Sheriff Graduates First Citizens Academy Class of 2019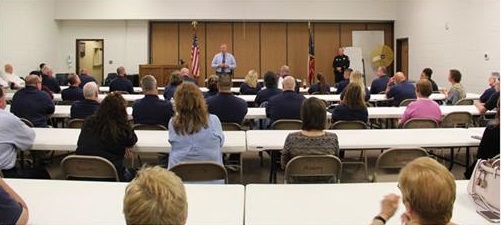 MONTGOMERY COUNTY, TX -- The Montgomery County Sheriff's Office was proud to graduate our first Citizen Academy class of 2019 on Wednesday, June 5th! Students who graduated sacrificed their personal and family time to come and learn more about our family- and upon graduation they were invited to join our extended family as part of the Citizen Academy Alumni Association.

During this 15 week course, students attended classes on Wednesday evenings for three hours of instruction. They were shown a 'behind the scenes' look at our facilities, tool, and training- but more importantly they to meet some of the men and women who work tirelessly to keep our communities safe. Guest instructors included member of our Criminal Investigation Division, Jail staff, Narcotics Investigators, Dispatch, SWAT and Hostage Negotiations Teams, K9's and more. The students even came in for a Saturday class where they donned the gear for 'shoot, don't shoot' type drills, mock domestic violence scenes, and high risk traffic stop scenarios to gain a better understanding of what is is like behind the badge.

The MCSO Citizen's Academy is one of our many community outreach programs designed to help bridge the gap between the Sheriff 's Office, and the citizens we serve. Our hope is to showcase our passion and commitment to keep our communities safe, and develop a partnership with those who we serve. Keeping our homes safe is everyone's responsibility, and through strong relationships with our citizens we will continue to make Montgomery County a great place to live, work and play.