/

/

Sprinkler System Saves Popular Local Music Venue Near The Woodlands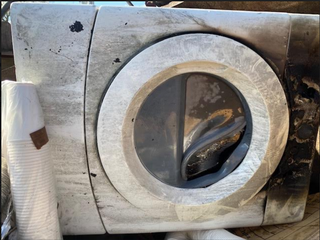 THE WOODLANDS, TX - The South Montgomery County Fire Department responded at 8:46 on February 21 to an automatic fire alarm at The Big Barn Music Venue located at 25911 I-45 N. The first arriving fire crew reported smoke visible inside and immediately entered the building where they found that a commercial dryer had caught fire. The building was unoccupied at the time the fire broke out, but fortunately it was equipped with a fire sprinkler and alarm system. The heat from the growing fire activated a single fire sprinkler which quickly contained the fire before it could spread, preventing any significant damage.
Fire Contained with Minimal Damage by Activation of a Single Sprinkler Head
Firefighters set about the task of clearing the building of smoke and secured the sprinkler system, preventing any disruption of business. The presence of the fire sprinkler system prevented what would have been a catastrophic fire had it spread to the rest of restored 165 year old barn, famous for its ambience and regular events featuring nationally recognized artists.
Although some wooden elements of the barn's foundation are estimated to be as much as 600 years old, the venue is protected throughout by modern fire safety systems installed in accordance with nationally accepted safety codes. With these systems in place, business was able to continue without interruption.
The Montgomery County Commissioner's Court adopted a County Fire Code in 2008 after a series of large fires in commercial buildings. Since that time, MCFMO Plans Examiners have reviewed and approved plans for approximately 75 million square feet of new construction.
In addition to reviewing plans for new construction and renovations, we are working together with our partners in the South Montgomery County Fire Department to inspect and insure continued public safety in the thousands of commercial and public buildings located throughout Montgomery County Emergency Services District #8.