/

/

The John Cooper School "Canstruction" Project Donates Thousands of Cans and Packages of Food to MC Food Bank at this Crucial Time for Our Community
The John Cooper School "Canstruction" Project Donates Thousands of Cans and Packages of Food to MC Food Bank at this Crucial Time for Our Community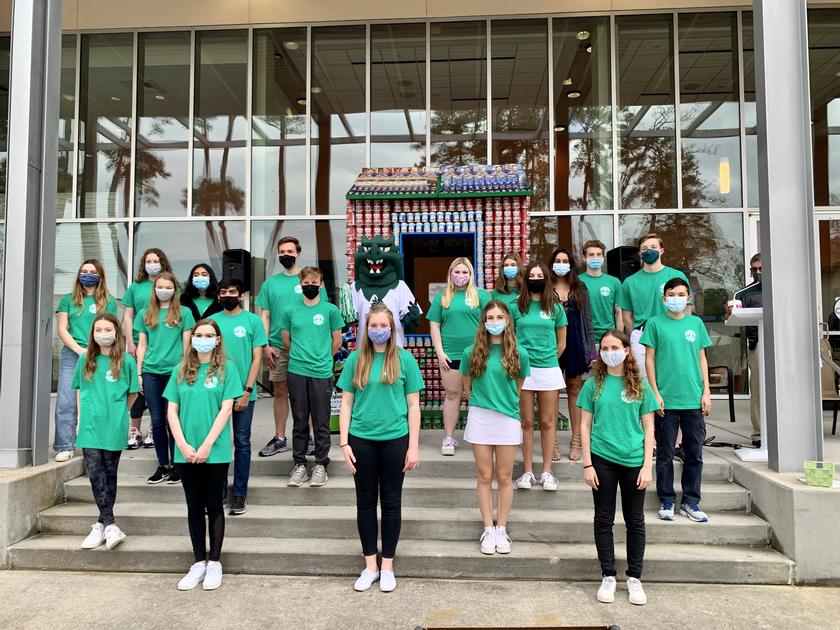 THE WOODLANDS, TX -- The John Cooper School held a special ceremony February 24 to debut their "Canstruction" project to the community; a house made out of cans that will fill the shelves of The Montgomery County Food Bank.

For 21 consecutive years, The Cooper community has constructed a Habitat home through Montgomery County Habitat for Humanity. Due to COVID-19, the project has been postponed until it is safe to do so again.

Through adaptability and a drive to serve, Student leaders from the JCS Interact Club and the Habitat Project Steering Committee, with the help of the Upper School Student Government Association have been collecting donations of canned goods to build a house out of cans, affectionately called "Habitat House 21.5.'

In addition to the can donations they received, they were able to raise $7,415.82 to purchase the, "bricks," or cans used to build this loving structure. They are donating approximately 3,000 cans and packages of food to the Montgomery County Food Bank. In light of the recent winter storm, their incredible donation couldn't have come at a more crucial time.

"The timelines of the this project and donation is incredible," said Kristine Marlow, President and CEO of the Montgomery County Food Bank. "I'll tell you the last five days as we've been recovering from the storm that hit Texas, so many people were affected in so many ways and we have served over 2,400 families just in the last five days. So you can imagine what a need we have," she said.

"We are just blown away, we did not know what to expect, but you have exceeded our expectations … I'm just encouraged and honored that we can be part of this and that we are going to benefit from your amazing works this past semester … I'm encouraged by our youth, by this amazing spirit, and we're grateful to be partners with you, and I'll tell you, the food is going to get out very quickly."

Click here to donate to the Montgomery County Food Bank.

What a wonderful accomplishment this is by The John Cooper School Dragons! Click here to visit their school website.