/

/

Board Proclaims July 28th as 'The Woodlands High School Lone Star Cup' Day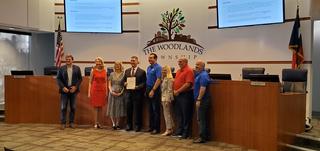 As the Woodlands board meeting opened a handful of community members addressed the board with their comments and concerns. Among the group was Everett Ison who is a veteran with VFW Post 12024. Ison wanted to voice his thanks to the board of directors for appropriately handling the 4th of July parade issue, where an inappropriate "float" entered the line.

Ison went on to let people know "This forum does work. And anybody you know...that does have a public comment concerning a concern. It does work, people listen to it."

Another notable moment was the board's motion to honor and recognize the Woodlands High school for winning the Lone Star Cup.

"On behalf of Gordy Bunch, Chairman of the Board of Directors of the Woodlands Township, do hereby proclaim Wednesday July 28th, as the Woodlands High School Lone Star Cup winner Day, Great Job." -Board of Directors The Woodlands Township.

The woodlands high school is proud of the students and school because they aren't a single rounded athletic school. Alongside athletics their academics of the Woodlands high school helped them win the Lone Star cup.

The meeting went on to showcase the budget and what is happening in the 'dark side' of crime. The sheriff's department along with the constable's office informed the board and community on their fight to eradicate crime and their efforts to keep crime low. They also discussed how an individual can protect themselves from the online predators and criminals. The take away from this was to be aware of where your child is and who they are talking to while they are on the phone. Also keep your items covered and don't bring attention to your belongings.

Finally they closed with Chris Nunes, the Director of the Woodlands Parks and Recreation. He proposed many parks and playgrounds need upgrades to keep up with the times as they age and deteriorate. He also placed concern on the amount of fields needed to host more outside events as the Woodlands area is becoming a more and more popular host township.

As the Board made its closing statements they reassured that the township continues to listen to the community and the necessary change to their concerns. They will meet next month to discuss more community issues and once again listen to the residents' concerns and comments.