HS Girls Soccer: The Woodlands and Seven Lakes Share the Win in Non-District Opener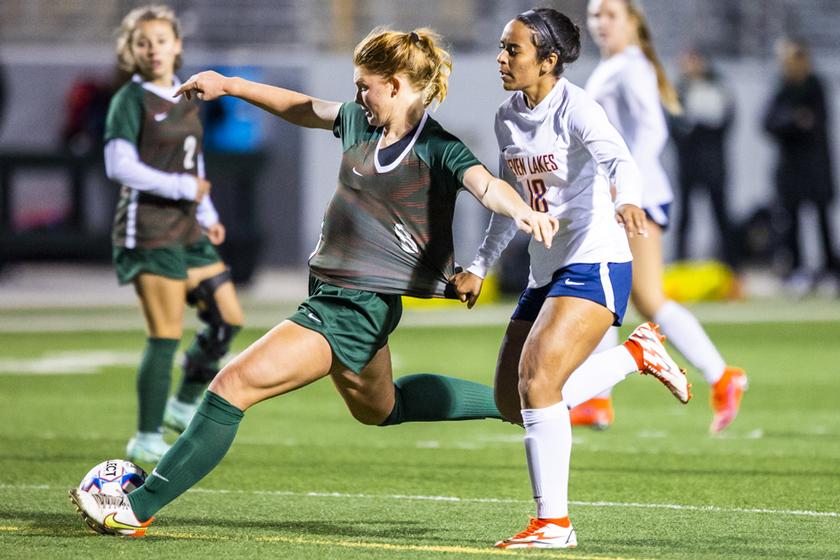 THE WOODLANDS, TX -- The Woodlands Lady Highlanders look to make another exceptional run in the playoffs this year although missing one crucial part of the team, their coach. New head coach Frankie Whitlock has the girls looking great in the pre-season and looks to have them in winning condition as the non-district season starts. Seven Lakes, also another playoff team from last year, looks to increase their skills by facing a power house team like The Lady Highlanders.

As the match began, it was evident that Seven Lakes was on a mission to strike first. The Highlander momentum and pressure is always the heaviest in the beginning of the halfs so each team has to match their energy or will fall quickly. It was #15 with the Seven Lakes Spartans who found the back of the net first with a short straight shot that passed goalie Annabella Fuentes (#0) in the 20th minute. But minutes later The Woodlands came back with a drive that would put Julia Carlin (#8) in a free kick position in front of the net. With a clear shot, Carlin beat the Seven Lakes goal keeper to secure the point and tie the match up in the 25th minute.


Seven Lakes takes a quick lead but The Lady Highlanders answer back on a free penalty kick.

Min 15
The Woodlands - 1
Seven Lakes - 1 pic.twitter.com/oAdraC6P7C

— Woodlands Online Sports (@WOLsports) January 4, 2022
Although there were some clear shots on goal, Seven Lakes and The Woodlands couldn't get past the brick walls put up by the goal keepers. Seven Lakes shot through The Woodlands defense in the second half but fell short with each attack. The Lady Highlanders looked to close out the Spartans on a couple of occasions but also couldn't connect due to the tough Spartan defense. The match ends with a 1-1 tie.
With the pre-season/non-district season officially started, The Woodlands looks to hone their skills in hopes to tear through the tough 13-6A district. The Woodlands have seen nothing but dominance the previous seasons and look to continue to make the playoffs and ultimately grab that State Title.