/

/

/

Grand Adventure 6.6.23
Grand Adventure 6.6.23
By:
The Adventure Begins | The Adventure Stadium | Published 06/06/2023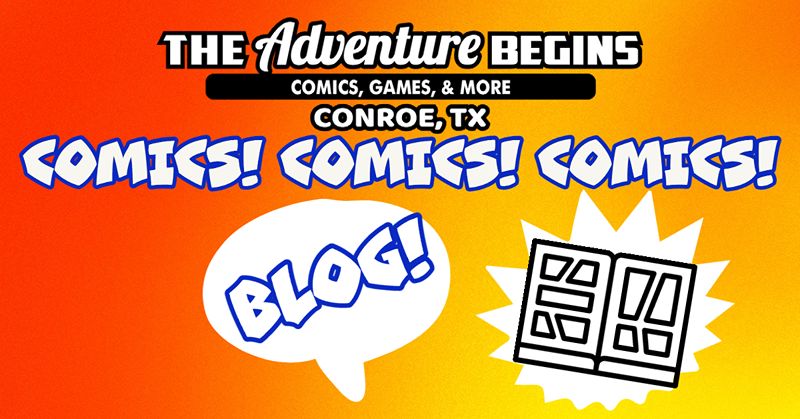 Welcome to the Grand Adventure Blog! I am your host, Samantha. This week we are going to explore some crazy comics, manga and more!! So be on the lookout for some new reading material!
COMIC LOTTERY!!
We don't have any comics coming to you this week for the lottery!! Chaz is back and so is our comic lottery!! Look at whats available today and get your choice in by 4:00 pm.
AMAZING SPIDER-MAN #26 PEPE LARRAZ VARIANT (1:25)

TEENAGE MUTANT NINJA TURTLES: SATURDAY MORNING ADVENTURES (2023-) #1 VARIANT RI (10) (DOONEY) (1:10)

W0RLD TR33 #1 2ND PTG THANK YOU WAR (1:10)
Comic Book Rec's!!
Comics this week are so amazing! I am so excited to share these with you!! Without further ado!
The first comic this week is Deadpool: Badder Blood #1. Deadpool, Wolverine, Cable- it doesn't get much badder than this! Wade Wilson is back, and he's bright some frenemies! As the villainous THUMPER returns to take out the man who created him, Wolverines and Cable step in for a daring rescue mission. But as Deadpool becomes embroiled in nefarious criminal machinations in MADRIPOOR, will the trio be able to join forces…or will Thumper's agenda put an end to their efforts? Don't miss the highly anticipated follow-up to DEADPOOL: BAD BLOOD, as Rob Liefeld returns to the Merc with a Mouth and introduces NEW characters into his wild world who are sure to become the next fan-faves, including the first appearance of SHATTERSTORM!
The second comic this week is Godfell #4. Zanzi has carved a path halfway through the body of God on her journey home, but now she and Neth will face the deadliest threat in Kerethim-the shadowy creatures of Nihli. Facing an enemy that can penetrate their minds and kill with a whisper, Zanzi will have to rely on Neth to keep them alive through the winding, bloody rivers of God's intestines.
Our last comic this week Catrina's Caravan: The Night of La Lechuza #1. CHISPA. The mysterious figure of Dona Catrina sweeps into a small town with her traveling carnival and tells a gathering crowd a dark tale. A father and son are captured by a group of militiamen who use terror to "patrol" the border. At their darkest moment, the refugees find a fierce ally-but can they truly trust a monster once it has killed the other monsters?
MANGA CORNER!!
Welcome to the manga corner where we talk about all things manga! This week we have only one mangas that will blow your mind!
The manga this week is Homunculus vol. 1-2. From the creator of Ichi the Killer and Voyeur, this hit supernatural horror tale inspired the live-action film on Netflix- and will be available in English for the first time in oversized omnibus editions!
Nakoshi Susumu, age thirty-four, lives out of his car. Between spending his days with the homeless and his nights in his vehicles, he has little to his name. When a medical student begins to stalk him, offering to pay Nakoshi a significant sum of cash to undergo a strange surgical procedure, Nakoshi initially refuses. But after his beloved car in towed, he finally agrees to take the offer and subjects himself to the operating table. What, if anything, will Nakoshi see differently once he awakens?
KIDS CORNER FOR JUNE
This month we have an entire set of books for you!! They are READING LEVEL BOOKS!! Each book has its own grade and age appropriateness for the reading level. Developing strong reading skills is critically important to a child's future intellectual growth. Parents, teachers and schools look for every avenue possible to spark the love of reading in young people. One proven method is to use a leveled reader program, which accounts for the different stages in a growing child's reading ability and comprehension. The Step-Into-Reading series by Random House Children's Books is a great program that supports this goal, organizing reading comprehension skills into 3 "steps."
These make excellent options for your own kid or all-ages section as well. Many popular licensed characters, including superheroes, Disney and Nickelodeon characters, and more are featured in these readers, with the hope of grabbing the attention of an inquisitive kid. There are also readers featuring original stories as well, covering subjects and themes that are generationally popular for decades.
Because of the sheer volume of reader options, I've put together a product list to help narrow the focus to those which may sell best in your own store. The spreadsheet is organized by subject area, with the more comic store-adjacent titles on top. Titles in green are a PRH bestseller over the last 90 days. I've also included which "Step" belongs to each title, so you can mix or emphasize your desired age ranges as needed.
There is also a great title collection of Step Into Reading books on PRHComics.com, this is a great location to "cover skim" dozens of options very quickly.
Readers are affordably priced and are easy purchasing decisions for parents or gift-givers to make. Every kid out there is just the right title away from becoming a lifelong voracious reader.
Finally, for those of you who are looking to add a new display to your children's area, RHCB offers an entire spinner devoted to their Step-Into-Reading series. It ships free with a full fill of titles. I've attached the sales PDF and feel free to contact me if you would like to learn more about placing an order or would like suggestions on recommended fill choices.
Articles by Month of Posting