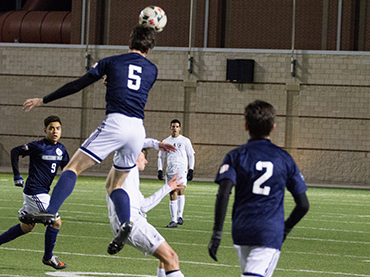 SHENANDOAH, Texas - The Woodlands College Park Cavaliers and The Woodlands Highlanders varsity soccer teams' rivalry match ended in a 1-1 draw on Friday night at Woodforest Bank Stadium, with both teams showing a determination to win and matching up equally in both offensive and defensive positions.

Click here to watch The Woodlands vs. College Park game broadcast presented by The Dentists at Creekside

The Cavaliers, who are in third place in district play, scored the first goal of the match in the first half. Rodrigo Perez scored the goal for College Park off of a set play, but was unfortunately red carded at the end of the game, giving the Highlanders a one man advantage. Perez tapped a ball into the goal at the side of the six yard box line played by Cavalier keeper Michael Wick. Wick's kick came as a result of a Highlander foul in the middle third. Although originally a seemingly risky move, the Cavaliers knew they possessed a trick up their sleeve that was sure to provide a shock to the Woodlands.

The Highlanders, first in district 16-6A, didn't take advantage of having a man advantage on the Cavaliers, but Junior Rafael Ortiz did manage to score a goal in the second half, before Perez was red carded. Ortiz showed patience in play, and stayed at an open position at the center of the goal, in which paid off after a teammate sent a pass in his direction. Ortiz sent the ball into the back of the net, proving that the Highlanders were not out of the game. The Woodlands had multiple opportunities throughout the game at the face of the goal, but could not manage to finish. College Park keeper Michael Wick continually got behind the majority of Woodlands shots, and was put under immense pressure as the Highlanders continued taking shots the rest of the second half.

Emotions were running high during the rivalry match, but in the end both teams remained patient and put up a fight throughout the entire game. They proved an even match against each other, reflected not only by the score, but the actual play as well.

The area rivalries will continue into next week, as the Cavaliers continue their district run on Tuesday, March 3 against Oak Ridge at home. The Highlanders will have a bye on Tuesday, and continue play on Friday, March 6, against Oak Ridge.