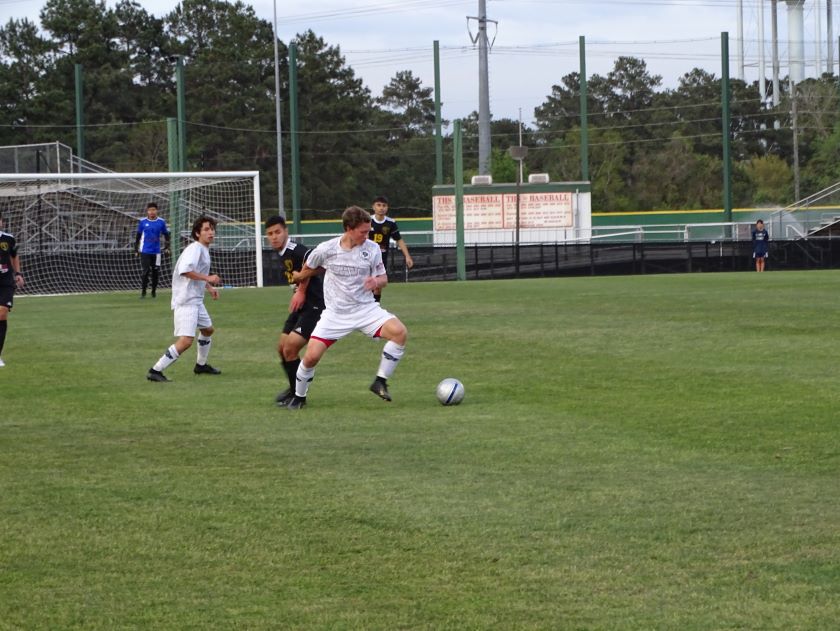 THE WOODLANDS, TX -- Boys Division

College Park:

Fresh off of earning a share of the district title for the first time in school history, College Park traveled to Tomball High School to take on Aldine Eisenhower. The Cavaliers walked away with a well earned 1-0 victory Thursday night. College Park's senior forward Mike Dadarria scored the winner early in the first half. Dadarria got on the end of a ball into the box, casually rounded the keeper to put CP ahead. The Cavaliers' ability to press high up the field and close the middle of the field kept the Eagles off the board. Next up is a second-round matchup against Cypress Ranch, Tuesday, April 2 at Magnolia High School. Kickoff is scheduled for 7 p.m.

The Woodlands:

The Woodlands finished the season in a familiar position at the top of the district standings. The Highlanders kicked off the postseason in a opening round fixture with Aldine High School. What wasn't familiar for TWHS was the result of the opening round game. Aldine, a major underdog, shocked everyone with a 1-0 overtime victory at Spring High School Friday night. Anthony Trejo pounced on a rebound in front of the net in the second overtime to stun the Highlanders and send the Mustangs into the next round against Cypress Lakes.

Girls Division

The Woodlands:

The Lady Highlanders also finished their regular season as district champions. The team took their winning ways to Woodforest Stadium for a Bi-District match with the Lions of Spring High School. Goal-scoring was not an issue in this game, as the Highlanders put half a dozen past the Spring defense. It was an overall dominant night for The Woodlands, who controlled possession and bombarded Spring's keeper with shots on goal all night. The Highlanders got goals from Kara Lessick, Lauren Toma, Victoria Weber, Samone Knight, Grace Henderson, and Maddie Krach. The Highlanders look to keep their offensive production high, Tuesday, April 2 at Bryan High School when they face Hendrickson High School at 7:30 p.m.

Oak Ridge:

The Lady War Eagles met Aldine High School at Grand Oaks Friday night and played a memorable game decided by the drama of penalty kicks. Oak Ridge found a second-half equalizer thanks to Agustina Mansilla. After two goalless halves of overtime, a spot in the Area round of the playoffs would be decided from 12 yards away from goal. A couple of clutch saves from War Eagles' keeper Vanessa Mayer and a shootout winner from Paola Reyes sent Oak Ridge into the second round for the first time in five years. After the 6-5 penalty shootout win, the War Eagles will travel to Giddings High School for an Area round tilt with Round Rock High School, Tuesday, April 2 at 8 p.m.