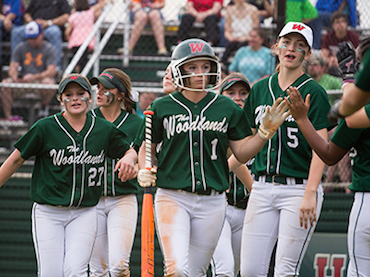 KINGWOOD, Texas - The Woodlands Lady Highlanders scored three runs in the top of the seventh inning to rally from an early deficit in a 4-2 district road victory over Kingwood on Friday night.

The Woodlands (21-4, 9-3) got an RBI-double from Roma Thornton in the top of the seventh inning, scoring Kelcy Leach to tie the game 2-2. Aubrey Leach was then intentionally walked and Freshman sensation Alayis Seneca doubled down the left field line, scoring Thornton for a 3-2 Lady Highlanders lead. Shelby Dublin continued the rally with an infield single that scored Aubrey Leach to give The Woodlands an insurance run with a 4-2 lead.

Emily Langkamp closed out Kingwood in the bottom of the seventh inning with a strikeout to clinch the No. 2-seed for The Woodlands in the postseason.

Starting pitcher Abby Langkamp went four innings and gave up just three hits and one unearned run, two walks and two strikeouts. Emily Langkamp pitched the final three innings and gave up just two hits with one unearned run with two walks and two strikeouts.

The Woodlands will face Montgomery in the Class 6A Region II Bi-District playoffs in a three-game series beginning on Thursday, April 30 with Game 1 at Montgomery at 7pm. Game 2 will be on Friday, May 1 at The Woodlands at 7pm, with Game 3 (if necessary) going back to Montgomery on Saturday, May 2 at 1:30pm.