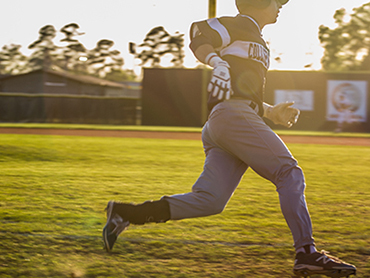 MUMFORD, Texas — College Park forces a game three versus Lake Travis in the regional quarterfinal round of the state playoffs with an 8-1 victory on Friday afternoon.

Beau Ridgeway took the mound for the Cavaliers. Ridgeway pitched a complete game, striking out three, walking two, and giving up only one run.

"I thought Beau Ridgeway was really good," said Head Coach Jason Washburn after the win. "He missed a lot of barrels tonight. He only struck out three guys but he got a lot of ground ball outs and pop fly outs. He was very efficient with his pitch count. That was a great performance by him and we needed that. We needed him to step up to the plate today and he did a great job."

College Park's offense jumped on Lake Travis's starting pitcher, Jackson Parthasarathy, quickly in the first inning. Two bases loaded walks and an RBI single by Ryan Dufrane put the Cavaliers up 3-0 in the top of the first. After walking 4, Parthasarathy was pulled, having pitched only two-thirds of an inning.

Throughout the game, College Park would draw 11 walks from five pitchers for Lake Travis. First baseman, Roosevelt Henderson who was intentionally walked in the first inning and scored a run on one of the bases loaded walks, said the team's approach at the plate was different than in game one.

"The first game we came out swinging at a bunch of pitches we shouldn't have. We didn't have a game Thursday, so we practiced and worked on that in the cages and it showed out on the field today. We just got the right pitches and hit the right pitches."

The score would stay 3-0 until the sixth inning where College Park would score three more runs. Lake Travis's third pitcher of the night walked in runs four and five, and a sacrifice fly by Colin Cameron would score the sixth. After Lake Travis scored one in the bottom of the sixth, College Park would add two more in the top of the 7th on a two out RBI double by third baseman Chandler Morris.

"We drew a lot of walks, some bases loaded walks which are just like a singles. And then Colin Cameron had a big sac fly to get another run and the killer I think was Chandler [Morris]; that double that he hit, the two out RBI," Coach Washburn added about the Cavaliers' late runs.

Looking forward to game three tomorrow, Coach Washburn commented, "I think we're gonna be ready to play. These guys don't want the season to end. I'm gonna expect them to be ready, that's about it."

The deciding game of the series will take place in Mumford, on Saturday at 11 AM. The winner of tomorrow's game will advance to the regional semi final round to face either Highland Park or Dallas Jesuit.