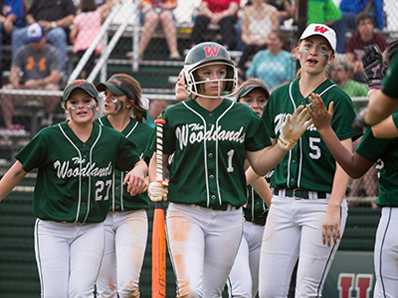 MUMFORD, Texas — The Woodlands Lady Highlanders advance to the regional finals by defeating the Belton Lady Tigers 3-2 and 2-1 in the first two games of a three game series on Friday and Saturday.

Game one was highlighted by a great relief appearance by Emily Langkamp and two runs in the bottom of the fifth. The Woodlands was leading 1-0 going into the fifth inning. With two outs, Lady Tigers' starting pitcher Sidney Holman would get on base with a walk, and would come around to score on an RBI single by Sydney Andrews, to tie the game. In the bottom of the fifth, the first two batters for the Lady Highlanders would get on base. A RBI single from Alayis Seneca would score Kerry Martinez, and Roma Thornton would put her team in the lead on a bunt by Kaitlyn Stavinoha.

Starting pitcher, Abby Langkamp went 4.2 innings for the Lady Highlanders allowing one run, throwing 71 pitches and striking out 3. Emily Langkamp would come in in relief in the bottom of the fourth. In the bottom of the fifth with her team in the lead, Emily Langkamp would issue four walks in a row to allow the Lady Tigers to come within one run, but then would strike out the next three batters of the inning.

"It was definitely nerve racking but I knew my team had my back because they played really good defense the whole time", Emily said after the game.

"Emily did great", head coach Richard Jorgensen praised. "The ball was slipping on her a little bit. It was a humid night. But she persevered and she's been lights out all year. She came through and got big when she needed to."

In game two, The Woodlands would take the early 1-0 lead on a Abby Langkamp RBI single scoring Alayis Seneca in the top of the first. They would score one more time in the top of the fifth on an RBI single by Aubrey Leach to go up 2-0. Like the night before, the defensive half of the fifth inning would be trouble for the Lady Highlanders. A lead off walk would eventually lead to a run by the Lady Tigers. But great defense by The Woodlands was able to stop any other threats Belton would make.

The Lady Highlanders advance to the regional finals of the state playoffs and will face either New Braunfels Canyon or Eagle Pass.