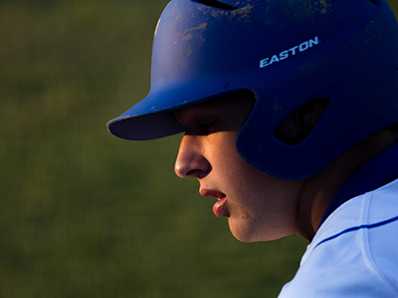 HUNTSVILLE, Texas -- Harrison Folk and the #7 Max Preps Texas state ranked Dallas Jesuit Rangers (34-3) struck first in their best of three Region 2 championship series as they handled the Oak Ridge War Eagles, 3-1 at Don Sanders Stadium on the campus of Sam Houston State University Thursday night.

Folk wasn't throwing earth shattering stuff but did hit spots and his fellow Rangers played errorless baseball on a night that saw the #1 rated War Eagles (29-3) get nine hits. Albeit, none were of the timely variety. The crafty senior right-hander walked just one batter and didn't record any strikeouts in giving up one earned run while throwing 81 total pitches in 6.2 innings. Jacob Palisch came in to relieve Folk and struck out the only batter he faced in earning the save.

Folk's outing overshadowed a fine effort by Oak Ridge pitcher, Bailey Cobb who came on with two outs in the third inning in relief of starter, Durbin Feltman with Jesuit ahead 3-0. Cobb blanked Jesuit the rest of the way giving up four hits and one walk while fanning three Rangers in throwing a total of 61 pitches. Feltman went 2.2 innings giving up three runs (two earned) off eight hits, walked no one and did not record a strikeout in throwing 66 pitches. Feltman picked off a Ranger runner at first base.

Dallas Jesuit scored first when Kyle Muller knocked in Nik Ready as the Rangers scored a run in each of the first three innings.

Oak Ridge could not get untracked all night long even though they had plenty of opportunities. Feltman knocked in the only War Eagle run on a ground-out to second base that plated Anthony Smith who had reached on a single and advanced to third on a double by Coby Smith.

Oak Ridge right-fielder Bryce Foley kept the War Eagles close midway through the game when he doubled up an unsuspecting Jesuit baserunner tagging from third base with a 250 foot strike to home plate.

Dallas Jesuit collected 12 hits on the evening with Chase Jennings leading the way with three. Bryce Bonner, Hill and Muller had two each while Zach Shepherd, Cameron Dobbs and Nic Ready each rapped out a hit.

For Oak Ridge, Zach Rollins and Michael Lawson had two hits. Riley McKnight, Anthony Smith, Coby Smith, Alex Wixson and Feltman had one hit apiece.

Oak Ridge Coach Mike Pirtle was optimistic after the game. "We've got our backs against the wall but we have Luken on the mound tomorrow so we'll be in good shape. They made some great plays and we've got to give them credit for that and they also got some good hits, too." Pirtle continued, "I was really proud of my kids for hanging in there. I thought we hit the ball well but we just hit right at them."

Both teams will travel to Prosper High School to play Game 2 which will be on Friday night at 7pm. If necessary, a third game will be played in Prosper on Saturday afternoon at 1pm.

The War Eagles have been in this position before and know what it takes to stay alive.