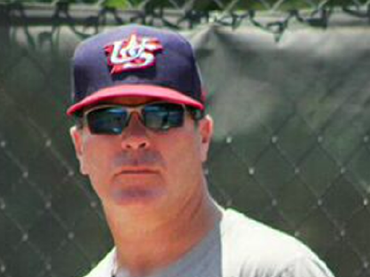 THE WOODLANDS, Texas -- In the month of July, a little over 100 teams participated in the 15U East & West Championships hosted by USA Baseball in Phoenix, Arizona and Jupiter, Florida. While these teams all have the goal of winning the championship and the gold medal that comes with it, the individual players from all over the nation are longing to be invited to a trial with a chance to play for their country.
USA Baseball coaches and scouts are on hand at each game scouting for players to go compete for a Gold Medal in the 2015 Pan American Championships in Mexico from August 21-30. The trial process takes place in Cary, NC from August 9-14 and includes 40 young men that will be working to fill the 20-man travel roster representing the USA.
This year the team will be managed by one of our local coaches, Jason Washburn, head baseball coach at College Park High School. This is Washburn's sixth year working with USA Baseball and the second year to be on the National Team coaching staff. Brooks Webb, USA Baseball's 15U National Team program director, had this to say, "Jason Washburn is a fantastic leader of young men, and has a proven track record of identifying national team talent."
Coach Washburn served as pitching coach in 2014, losing in the Gold Medal game to Cuba at last year's World Games.
As the team heads toward Mexico, they will make a pass through Bush Intercontinental Airport and stay two nights (Aug. 18/19) in The Woodlands. Tentatively, the team will be practicing at College Park High Sschool at 10:00 am on the morning of the 19th and that will be open to the public. Arrival at Spring Hill Suites in the College Park area is expected around 9:30 on the night of Aug. 18 and all are encouraged to come welcome the National Team to The Woodlands and to the great state of Texas.
Washburn's high school head coaching career started at Willis High School, then Spring High School and then to College Park where he has led the Cavaliers ever since their inception in 2006.
"I'm flattered and honored to be chosen as the head coach this year. After having the opportunity to be on staff last year and travel to Mexico it reaffirmed how much of a privilege it is to represent the United States on the baseball field. It's quite an experience to stand there and listen to another country's anthem and then to hear our beautiful national anthem. It's a goose bump experience. The players are obviously some of the best in the country. They are guys that we could potentially see going across the draft board or on TV in a few years. It's a challenge and a joy to get to put a team like this together with kids from all over the country and to get them to gel quickly and gain an identification as a team. We have a great coaching staff put together and we are anxious to get to work."
Former College Park baseball standout and current pro ball player in the Kansas City Royals organization, Corey Toups had this to say about Coach Washburn. "I remember 'master the boredom of repeitition' was something he would repeat to us everyday. How it was important to get quality reps over quantity. He also kept the guys on the team loose and wanting to come to the field everyday, which is huge expecially when trying to grind out during the season. He's a great coach and mentor on and off the field and I know I can always go to him for advice."
Everywhere Coach Washburn has been he has not only been successful in the win loss column, but in helping to build character in the young men he has had come through each of his programs.