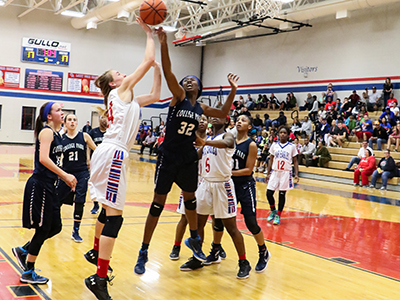 SHENANDOAH, Texas — The College Park varsity girls basketball team finished their road face-off against Oak Ridge 37-27 after a close battle, gaining their second win in district play.

Watch highlights from the game here.

Scoring deficits on both sides made for a slow start to the match-up, and the first quarter ended with a Lady Cavalier 9-5 lead. Oak Ridge spent most of the second quarter tailing College Park, and a free-throw shot just before halftime tied the game 17-17.

The Lady War Eagles took advantage of College Park injuries and pulled ahead of the Lady Cavs, maintaining the lead throughout the entirety of the third quarter, but it did not last long after the buzzer. The Lady Cavs, led by Player of the Game, junior Lauryn Cannady, took the lead again, widening the scoring gap to 10 points and defeated Oak Ridge 37-27.

College Park head coach Michelle Richardson said she was glad to have pulled the win without anymore injuries to the team and that she was proud of the girls for fighting hard through the end.

"We've been so close in so many games and not fought to the end and ended up on the loss column," Richardson said. "I think finally getting that confidence to go ahead and get the leads so that we could keep it was a huge motivation for this team."

The Lady Cavaliers will play their next game at home against Summer Creek High School Friday, January 19 at 7 p.m.