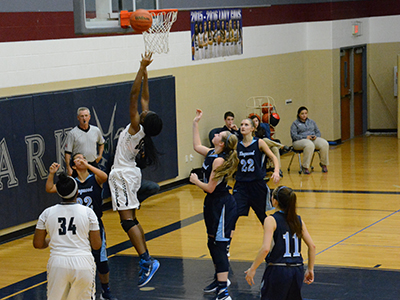 THE WOODLANDS, Texas - A month into their 2015-2016 season, The College Park Lady Cavalier varsity basketball team took on the Kingwood Mustangs at home on Friday, December 11, for their first district game. With a close and exciting match throughout, it was ultimately the Lady Cavs who would come out on top, defeating the Lady Mustangs 33-29.

The Lady Cavaliers started the game with lots of energy, and came out onto the court ready to play. With College Park choosing a man-to-man defense, Kingwood had some trouble at the start trying to get shots off. College Park's senior power forward, Angela Wadley had the first basket of the game, getting points on the board for the Lady Cavs. Both teams were going back and forth on the court, trying to get into a groove on offense. With Kingwood in a zone defense, College Park was able to garner a few shots in the paint, including baskets from junior center, Jasmine Atobajeun, Wadley, and point guard Jordan Rockins. College park was soon up 10-5. Within the last two minutes of the quarter, Kingwood started to play with more energy and slowly crept up on the Lady Cavs. After a basket from Kingwood's Kimberly Levengood, College Park had a two-point lead, 12-10.

Leading into the second, Kingwood increased the intensity of their defense, making it hard for the Lady Cavs to get a shot off in the paint. After Kingwood garnered some steals and a 3-pointer from Levengood, College Park's Wadley was able to get a basket for her team, followed by a layup from Rockins, giving the Lady Cavs a 16-13 lead. Although presenting a stronger defense, Kingwood started racking up the fouls, putting College Park into bonus. After being fouled, Wadley stepped up to the free throw line and made both shots with ease, a common theme that would be present for the rest of the game. With less than two minutes left of the half, Rockins goes in for a layup, and gives College Park the lead at halftime, 22-19.

Starting the second half, both times increased their defensive play, and Kingwood got the first five points on the board in the third quarter, giving them a 24-22 lead. Atobajeun is a able to get the one and only basket for College Park in the third. Although Kingwood racked up several fouls, another goal for the Lady Mustangs put them ahead 26-24 as they headed to the fourth quarter.

Just like the third, fouls seemed to be rampant in the fourth, as Kingwood and College Park were getting calls left and right on both defense and offense. After being fouled twice, Wadley nailed all four of her free throws, giving College Park back the lead, 29-28. Wadley played with great tenacity throughout the whole game, and really showed how much of a team player she is, both on offense and defense. Kingwood would go on to just score three more points in the third, while the Lady Cavs had nine, seven of which were free throws. Senior Jewels Campbell also came through for the team, scoring both of her free throws as well. Although a solid effort, Kingwood could not catch up to the Lady Cavs, and College Park defeated the Lady Mustangs with a final score of 33-29.

"I thought it was a team effort," said College Park girls basketball head coach, Michelle Richardson. "I thought that our defense in the beginning was not where it needed to be and that's what we focused on at halftime, was switching everything, communicating more, and when we finally started doing that, the outcome was great. We had two seniors hit some really big free throws and I am very happy for them. When one person is down another person is up, and that is what I love about our group is that we lift each other up. If we play as a team we are hard to beat. Getting a first district win was huge for our kids."

The Lady Cavaliers will take on the Conroe Lady Tigerettes on Tuesday, December 15, at Conroe High School.