BASKETBALL: Conroe wins second district game in a row, defeats Lady Cavs 37-29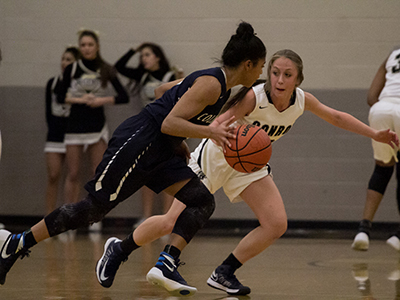 CONROE, Texas — The Conroe High School girls basketball team tasted sweet victory as they defeated College Park 37-29, improving their district record to 2-0.
The Tigerettes started the game with a solid lead over the Lady Cavaliers and held them to 9-2 by the end of the first quarter. College Park fought to close the gap in the second quarter but struggled to overcome the momentum that Conroe had set, leaving the halftime score at 23-14, Conroe.
The third quarter proved to be a difficult one as Conroe's frequent fouls sent College Park to the free-throw line. Head Coach Tamisha Houston said when her girls fight aggressively, little mistakes like hand movement cause them to foul, and she said it's a problem that needs to be fixed.
"We had to quit sending them to the free-throw line," Houston said. "The majority of their points in the third quarter came from free throws, and that's what every team wants to do. We want to go and shoot free throws with no defense in our faces. We have time to set up and get a good shot, so College Park did a great job of attacking and forcing us to be in positions where we had to foul."
While College Park pressed them harder and harder as the second half continued, Conroe was able to maintain their lead and finish their game 37-29. Houston, who is in the middle of her second year as Conroe's head girls basketball coach, said her team is building their confidence and showing the community Conroe basketball's true potential.
"We're going out and playing with a passion to prove to themselves, their peers and their families that Conroe basketball can be successful," Houston said. "They're working hard, and I'm just proud of them. I'm proud of them finding away to win because we can prepare them in practice, but when they step out on the court it's all them. Having some success is doing good for their confidence."
Conroe will play their next game at The Woodlands High School Friday, December 18 at 7 p.m. Houston said that while she wants her team to savor their victory, she knows that they need to stay focused on the road ahead.
"They're fighting hard to prove to themselves that they can do it, so I'm proud of them," Houston said. "We're excited to know that we've started 2-0, but as soon as this night is over we have to forget about it because we have a tough team in The Woodlands coming in here on Friday."