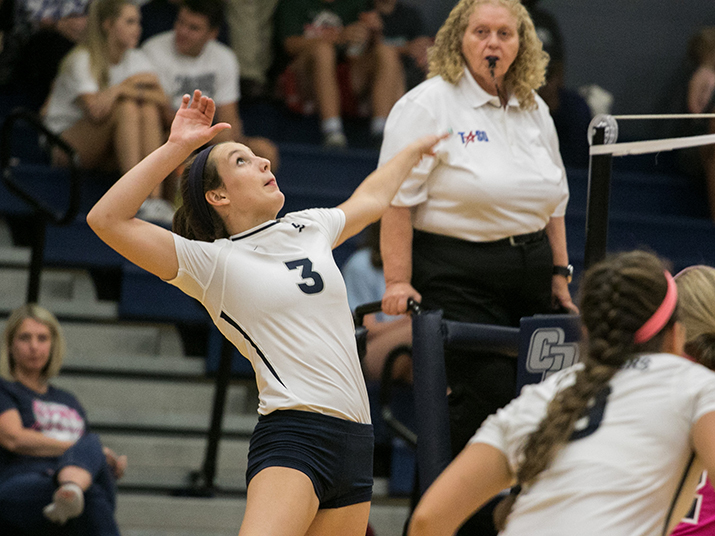 THE WOODLANDS, Texas — The College Park High School volleyball team opened their season with a 3-1 win over Klein Collins.

The Lady Cavaliers had a rough start as they dropped the first set 19-25 but steadily held Klein Collins between eight and 10 points throughout the following set until College Park finished it with a 25-20 lead and tied the match.

"It was good to see such a big lead," Head Coach Candice Collins said. "We have to work on that when you have a big lead, keep it, and not to let up and not to relax. It was a good thing after coming off of the first set to be leading by eight to 10 points at a time. I think that showed them that when we're all working together, they can be that successful, but at the same time, you've got to keep it."

Two more neck-and-neck sets with scores of 25-22 put College Park's first victory of the season in the books. Leading the Lady Cavs were Audrey Penn with 11 kills and Mackenzie Nunes with 23 assists. Collins said the match was a big confidence booster for her young team, and she's enjoyed watching the older athletes step up as leaders.

"I'm really excited about this year," Collins said. It's an all new group, and they have done an outstanding job this last week. you see some of the girls step up to be leaders and leading the younger kids, so it's really kind of a neat chemistry that we have going on. We have a lot of good options, a lot of depth down the bench, and I'm excited about that."

The 2016 season will feature a new district line-up with the addition of Montgomery, Lufkin and Beaumont Central high schools. Collins said their season opener was a good way to prepare them for what's coming.

"I think most of our matches are going to be pretty tough. I think most of them are going to be very competitive," Collins said. "Each night is good because you have to play at such a high level. I'm excited about the new district. I think it'll be fun with some new faces, but we have a lot of work to do because we have so many new players, but I like where we're at. I'm comfortable with where we're at. We're excited, and we're ready to get to work and see where the next week takes us.

The Lady Cavaliers will compete in the Pearland Invitational on Thursday, August 11 and will head face Cy-Fair on Bobcat territory Tuesday, August 16.