/

/

Montgomery County Sheriff's Office Investigates Circle K Aggravated Robbery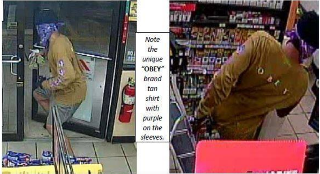 MONTGOMERY COUNTY, TX - On August 16, 2019 at around 1:41 AM, the Montgomery County Sheriff's Office received a call reporting an Aggravated Robbery at the Circle K convenience store located at 12464 FM 3083, Conroe, Texas. Upon arrival, Deputies were advised a white or Hispanic male came in with a gun and demanded the money from the register. During investigation and review of the video, the suspect was determined to be approximately 5' 7'' to 5' 9'' tall wearing a black ball cap, a purple bandanna covering his face, cloth covering his hands, a tan 'OBEY' brand long sleeved shirt and light khaki shorts.

If you have any information that might lead to the identity of the suspect in this case, please contact the Montgomery County Sheriff's Office at 936-760-5800 or Multi-County Crime Stoppers at 1-800-392-STOP. Refer to Case #19A263610.