/

/

Montgomery County Sheriff's Office Seeks Assistance in Identifying Thieves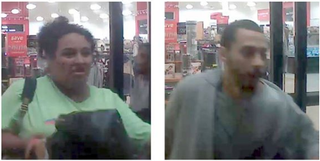 MONTGOMERY COUNTY, TX - On January 7, 2020 at about 8:30 PM, an unknown Hispanic female and Hispanic male entered the TJ Maxx located at 21496 Market Place Dr., New Caney, TX. As seen in security footage, the two walked around the store and selected multiple hand bags. The Hispanic female then used an unknown tool to cut the security tags off of the hand bags before placing them into her cart. The female and male took all of the bags from their cart, and exited the building without paying. The total loss is $2,039.81.

If anyone has information about this incident, please contact the Montgomery County Sheriff's Office at 936-760-5800, and reference Case # 20A009405.