Cooper Students Get Inside Look At College and Professional Football With Online Program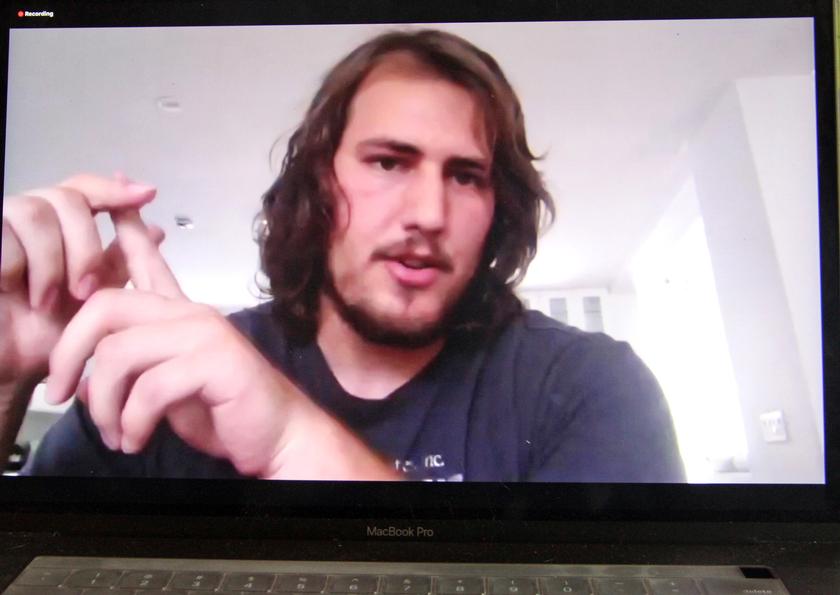 THE WOODLANDS, TX - As part of The John Cooper School's ZOOM WITH THE STARS program, Upper School students visited with NFL guard Ali Marpet of the Tampa Bay Buccaneers on April 10.

Marpet fielded questions from students about his journey playing high school football to playing for Hobart College, a small Division III liberal arts college, to a career in the NFL as the highest-drafted pick in the history of NCAA Division III football.

"Ali told his inspirational story about his unlikely path to the NFL, while providing insight on what we should be doing right now as high school athletes, in order to play at the next level," said Jake Peterson, a junior running back/offensive linebacker on the Dragon football team.

Marpet's journey to the NFL began at a small high school in New York where he played basketball and football. "My high school was not heavily recruited for football, we were known for other sports," Marpet said. "I played mostly basketball in high school. At the time I thought that by sticking to one sport, I was going to be the best, so I was playing basketball year-round." His football coach encouraged him to play football to become a better basketball player. "The focus needs to be on how you can be a better athlete, so the best advice I can give a high school athlete is to play multiple sports."

His size dictated his journey to college football. "I am a big man and 6'4" so the ceiling was low as to the level I could play basketball. I realized as an offensive lineman, I had a much higher ceiling."

Marpet shared his experiences as a Division III student athlete and what he felt were the differences between Division III and larger schools. "I think Hobart served me well and prepared me for the NFL because you had to manage your own time," Marpet said. "Talking to my teammates who attended larger schools, a lot of things were provided for them, so they just had to focus on football and it's not like that in the NFL."

Marpet's advice for student-athletes in college was, "to manage your time to succeed both academically and athletically. The guys I've seen really succeed in that environment are guys that really prioritize and use the resources around them."

In his 45-minute session, Marpet fielded questions on his strict training regimen, the importance of family support, the recruiting process by both colleges and the NFL and even his thoughts about Tom Brady joining the Buccaneers. "There's so much excitement in Tampa, because obviously he's one of the best players of all time," Marpet said. "One of the reasons I think he came to Tampa was because he saw opportunity and the talent that was there, and I think he believes we can win with this team."

"I believe our players got a first-hand experience on the commitment and dedication it takes not only to be a college athlete but to play the elite level of the NFL," said Dragon Head Coach Erik DeHaven. "The best advice he gave was that athletes in high school should never concentrate on one sport. Being an athlete transfers over to multiple sports and you should always compete.

Dragon athletes Jake Peterson, Ben DeLoit, Mehdi Rizvi, Nicholas Harris, and Will Corson

conducted the online video interview. They were later praised by Marpet on the caliber of their questions. "The experience of interviewing Ali Marpet was one I will not forget for a long time," Peterson said. "I have played with his card in Madden before, never thinking I would be getting the chance to ask him questions over a Zoom call."

The online event is part of the school's ZOOM WITH THE STARS program, created to connect students during distance learning with people they might not connect with and learn from during a regular school day.