/

/

Firefighters Rescue Teen from Burning Home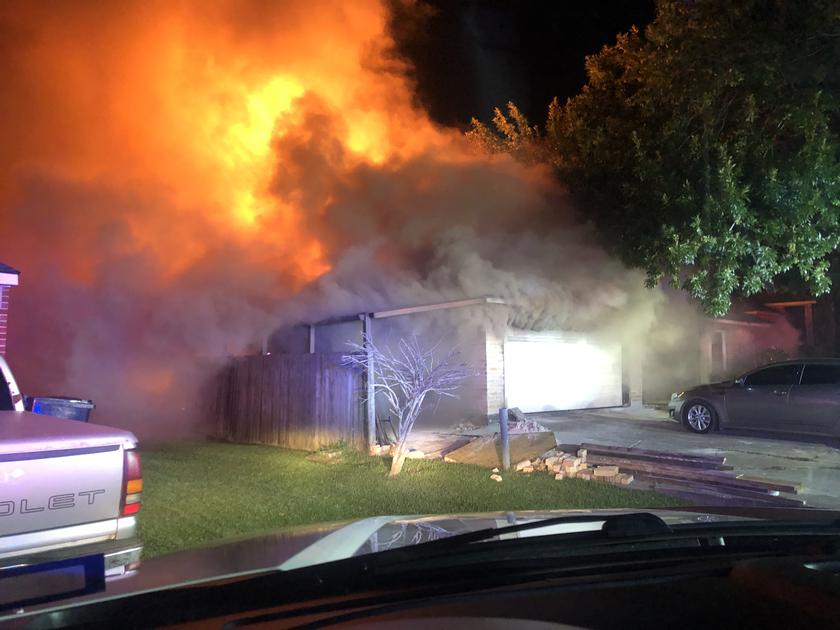 WILLIS, TX - Just after Midnight, a Willis family awoke to their worst nightmare. Thick smoke was filling their home as a fire was quickly spreading throughout the house, blocking their escape. Firefighters from Montgomery County ESD 1 soon arrived to find that 3 children and one adult had managed to escape, but an 18 year old female occupant was still trapped inside.
Fire Crews battle fire and smoke to reach 18 year old victim trapped after she retreated to her closet to avoid growing fire.
The first arriving crew from nearby Station 94 entered the burning home and encountered extreme heat and fire conditions as they attempted to search for the trapped teen. Additional MCESD 1 crews arrived and were soon joined by Engine 55 from the Montgomery Fire Department and Engine 7 from the Conroe Fire Department. MCESD Engine 91 and CFD Engine 7 worked to keep the fire from spreading as crews from Engine 94, Ladder 91, and Engine 55 used a technique known as Vent-Enter-Search or VES to search for the missing occupant. During VES operations, Firefighters look for survivable rooms, then enter through the window and search that room, often shutting the door to the room to isolate it from the main body of the fire. This technique allows for a rapid search during the worst of conditions.
Firefighters from Ladder 91 and Engine 55 went into the victim's bedroom through the window and located her unconscious in the closet where she had retreated and covered herself to escape the heat and smoke. Working together, the crews pulled her from the home and delivered her to Paramedics from the Montgomery County Hospital District EMS who immediately began CPR and advanced care. The teen was resuscitated at the scene and transported in critical condition to Conroe Regional Medical Center where she was stabilized, then later transferred to a burn center.
Fire Investigators from the MCFMO responded to both the scene and the hospital as they began their investigation into the cause of the fire. The investigation is ongoing and although the cause has yet to be determined, it does not appear as if the home was equipped with working smoke alarms.
This is the second rescue from a burning home in Montgomery County in the past two weeks. On July 21st , Conroe Firefighters pulled a resident from her burning home on Wagers Street under similar conditions. That victim was also revived by MCHD EMS and transported in critical condition but thanks to their efforts, she did survive and was discharged from the hospital a few days later.
Residents are reminded that having working smoke alarms in your home cuts your family's chances of dying in a home fire in half. The vast majority of the 3000 average annual fire deaths in the USA occur in homes where there are no smoke alarms, or their batteries are dead or missing. In response to these tragic fires, the Montgomery County Fire Chief's Association has established a program dubbed "Get Alarmed Montgomery County." Under the program, residents who own their homes can request assistance and local firefighters will come and install free long-life smoke alarms throughout your home. These smoke alarms will last up to 10 years and are available at no cost, due to generous donations from our local business community.
Residents needing assistance are encouraged to contact their local fire station or you may call the Montgomery County Fire Marshal's Office at (936) 538-8288. If you are renting a home, mobile home, or apartment, State law mandates that your landlord install working smoke alarms. Once installed, residents are responsible for testing them and replacing batteries when needed.