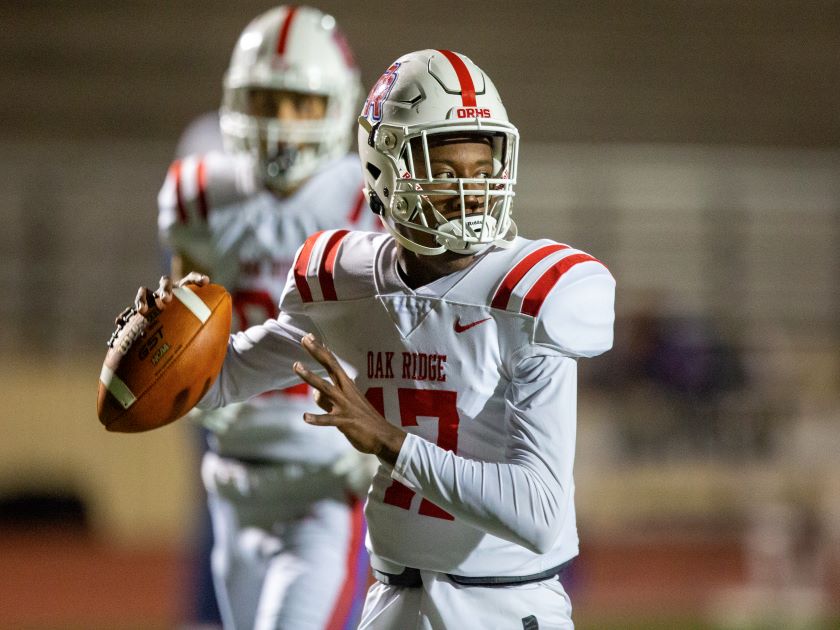 TOMBALL, TX -- A week after their first playoff victory since 2002, the Oak Ridge War Eagles couldn't keep the momentum going in the area round against Tomball Memorial. The high-powered Wildcats were too much for The Ridge as they went on to win 49-13 on Friday night.

After a scoreless first quarter, this second round matchup had the appearance of a defensive battle. However both teams combined for 35 points in the second quarter, and they did so in an explosive manner.

Tomball Memorial struck first early in the second quarter. Wildcats RB Richard Rodriguez kicked off his monster performance with a huge gain right through the middle of the OR defense. That led to Rodriguez scoring the opening touchdown on a three-yard run and the two-point conversion to take an 8-0 lead.

As all Oak Ridge fans know by now, if we're talking about explosive running backs, Oak Ridge RB Alton McCaskill will always be in the conversation. McCaskill jump started the War Eagles' drive with a couple of long runs to put The Ridge in the red zone. McCaskill finished what he started with a seven-yard TD run to bring Oak Ridge within one.

Tomball Memorial has given defenses headaches all season with their dynamic offense. The Wildcats needed just two plays to regain the momentum. WR Chase Lovick scored on a four-yard rushing TD and WR Joseph Manjack added the two-pointer to extend their lead to nine.

Late in the quarter, McCaskill once again reminded everyone that he's a threat to score every time he touches the football. McCaskill took the handoff, bounced outside, and left everyone reading the back of his jersey as he raced away for an 88-yard touchdown.

Quick tempo and a bit of luck gave Tomball Memorial a 22-13 lead right before halftime. The Wildcats quickly entered the red zone, then with 16 seconds remaining, Memorial fumbled the ball into the end zone, but Marshall Hale was able to recover it for the Wildcats touchdown.

Although the score was close coming into the second half, Tomball Memorial proved to be too much for the War Eagles over the course of four quarters. Turnovers and the inability to limit chunk plays defensively led to the game getting out of hand in the second half. An 84-yard TD run by Manjack and three-second half touchdowns by Rodriguez led the Wildcats to Round Three of the UIL 6A DII playoffs.

Oak Ridge finishes their season with 6-5 overall record.