/

/

/

Upcoming Events at Canopy
Upcoming Events at Canopy
By:
Memorial Hermann Canopy Cancer Survivor Center | Published 09/20/2023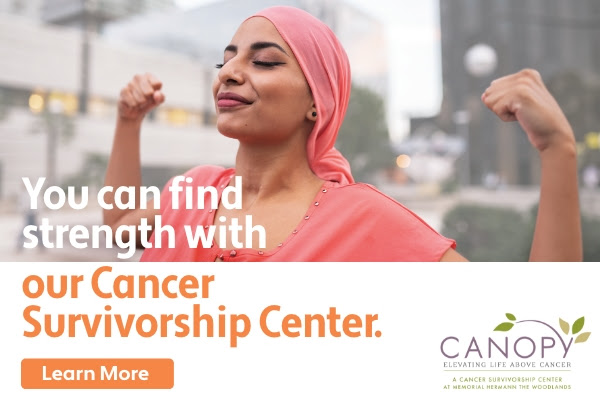 The mission of Canopy is to integrate cancer survivorship into the continuum of cancer care by providing the finest support, education and integrative services to all those impacted by cancer regardless of where patients are receiving treatment. The center serves as the primary location for activities aimed at helping patients and families throughout all phases of their illness, as well as assistance in navigating life after treatment. Created to be a warm and welcoming place with all elements centered on creating a calm and relaxing atmosphere for those who visit. Canopy is a home-away-from-home for cancer survivors and their families.
Reserve your seat at 713-897-5939
Drama Therapy with Peyton Welch, RDT is re-scheduled for this Thursday 9/21 at 1pm and will not be held on 9/28.

Haven't tried Drama Therapy? Learn more

here

and come give it a try!
New Memory & Cognition Support Group
We are thrilled to announce the launch of a support group for cancer survivors who are facing memory and cognition challenges as a result of treatment. The group is specifically designed for those who are dealing with "chemo brain", the common term used to describe the cognitive changes that can occur after chemotherapy. Our aim is to provide a safe and supportive space for survivors to connect with others who are going through similar experiences and to offer practical tips and strategies for managing memory and cognition challenges.
Each small group will follow a 3 week sequence with guided peer support, resources and tips. Each session is at 2:30pm on the dates listed below.
Cohort B:
Cohort C:
Call canopy at 713-897-5939 to reserve your seat.
Join us for a fall Turkish workshop led by Kuaybe Noor. In this workshop, attendees will have the unique opportunity to learn how to make two traditional dishes from Turkey, Kisir and Baklava. Noor will share her expertise and guide you through the process, ensuring that you leave with the skills to recreate these delicious dishes at home. Don't miss this chance to experience the flavors of Turkey and expand your culinary expertise. T

Tuesday, September 19th at 10am.

Image Source: Tara's International Table

Limited seating available.
A safe and supportive space for individuals to discuss coping skills, develop a healthy mindset, and cultivate inner resources. Together, we will share experiences, provide encouragement, and offer guidance to help navigate the challenges of cancer survivorship.

Led by Oncology Social Work Counselor,

September 28th

12pm

Topic:

Post-Treatment Concerns
Memorial Hermann Canopy Cancer Survivor Center Blog Blogs: (4)
Articles by Month of Posting