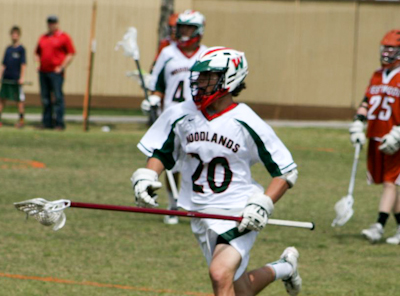 THE WOODLANDS, Texas - Anthony Good found the twine four times in leading The Woodlands High School lacrosse team to a 17-4 drubbing of Memorial High School at Gullo Field on Wednesday night.

The Mustangs (7-6, 4-4) came into the game in need of a huge win to lock up a South Zone playoff spot but it was not to be as the Highlanders (16-0, 8-0) showed why they have yet to lose a game thus far this season.

The Woodlands got out of the gate early and often and were up 9-1 after the first stanza. Ben Lipscomb and Sean McCanna scored three goals each as Gus Pinsoneault and Brian Welling each had three assists for the Highlanders.

Face-off specialist Jake Williams was good on 12-of-17 face-offs and gobbled up six ground balls. With Williams winning a team-record 88 percent of the face-offs and consistently leading the team in GB's, the offense is getting plenty of opportunities.

Ryan Clay and Brian Welling also had six GB's. Recent call-ups Connor Binney and Johnny Daniels have added some much needed depth as they are producing for the Highlanders already. Binney had a goal and an assist and Daniels had four GB's.

The Woodlands plays at home against Episcopal School of Houston on Tuesday. A win can wrap up the top seed.

Comments to global.information@rocketmail.com.