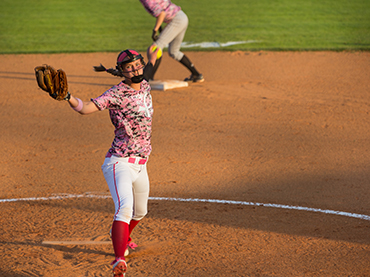 THE WOODLANDS, Texas - The Woodlands Lady Highlanders capitalized on mistakes by College Park and maintained a strong defense led by pitchers Abby and Emily Langkamp, in a 8-0 district home win over the Lady Cavs on Tuesday night
The Woodlands wins fifth straight district game
Click here to watch Game Highlights
The Woodlands (21-2, 8-2) remain tied for first place in the District 16-6A standings with Atascocita, as College Park (7-12, 2-6) trails Oak Ridge by two games for the fourth and final playoff spot.
The first inning resulted in a 3-0 lead for the Lady Highlanders, with runs from freshman Alayis Seneca, senior Shelby Dublin, and senior Roma Thornton, all off of Cavalier errors.
The cross-town rivals battled tightly throughout the game, however The Woodlands added to their lead in the fourth inning, when senior Aubrey Leach awoke an opportunistic Woodlands offense with a two-out walk. Seneca then hit a double to center field scoring Leach, to give the Lady Highlanders a commanding 4-0 lead.
The Lady Highlanders offense awoke again in the bottom of the sixth inning, this time for four runs, led by Aubrey Leach's two-RBI double to center field scoring Sam Bratsch and Kerry Martinez. Two sacrifice fly's that got runs in courtesy of Seneca and Shelby Dublin made for the final tally of 8-0.
Lady Cavs head coach Danna Rice is extremely proud of her team, as College Park's roster has a total of 6 sophomore and junior players out of the total 14. "I'm very proud of my kids. Even with the mistakes we made, it is still a learning process. All of the girls that made errors with the exception of one, those kids are freshman and sophomores, and to step up in a varsity game, playing in a district of this caliber, to hang with these people, that is absolutely incredible," said Rice
Lady Highlanders head coach Richard Jorgensen was equally proud of his team, who endured some struggles earlier on in the season but are now starting to get in their own groove and play their own game.
"It was a close game up until the end when we kind of broke it open, but things are clicking a lot better than they were. We still have a long way to go, but we have beaten some good teams this year. We are getting better every game, our leadership is coming along, so hopefully we can keep it up," said Jorgensen.
Both coaches award the pitchers of the match for their valiant efforts and pristine execution in the game. Peyton Hutchins of College Park and Abby Langkamp of The Woodlands were praised for their determination and intelligence regarding the game.
"Peyton, their pitcher, has done a great job, in the first game she did a great job. She is a senior, she's smart, and she played a good game," said Woodlands head coach Richard Jorgensen of Hutchins.
In reference to Hutchins impact on the Lady Cavs, Coach Rice said, "She is just an incredible pitcher. She goes out every day, and she just does her job. She leads this team, she keeps us in a ball game, she gets the ground balls, she gets the pop-ups, and she just does her job."
Lady Highlander pitchers Abby and Emily Langkamp were not to be outshown. Abby, a Baylor-commit, pitched the majority of the game, going five-innings and allowed just three hits and no runs.
"She was lights out. She pitched really well tonight. Abby has pitched well all year long, and it's a real good one-two punch with her and Emily, because they have different stuff. I can't say enough about Abby or Emily," said Jorgensen.
The College Park Lady Cavs will continue district play on Friday, April 11, at Oak Ridge, weather permitting.
The Lady Highlanders will continue their district play on Tuesday, April 14, at Oak Ridge, after a bye on Friday.