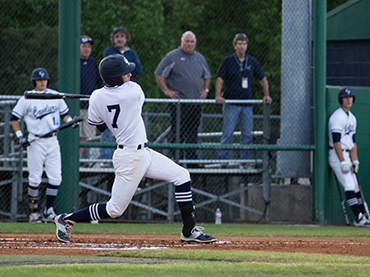 MUMFORD, Texas - The College Park Cavaliers played their first game in the series against Lake Travis on Wednesday night. The game was held in Mumford, where both teams had a common goal: to advance in the 16-6A Texas High School Baseball playoffs.

For the first four innings, the game remained scoreless. Both teams showed solid pitching efforts, including Cavs pitcher, Parker Hudson. Hudson kept Lake Travis hitless in one inning, with no earned runs and one strikeout.

However, Lake Travis took the lead in the fifth inning with two runs: one from a run on an error, and another from a groundout. The Cavs trailed Lake Travis by two runs going into the sixth inning.

Lake Travis soon took three more runs in the sixth, increasing their lead by five against the College Park Cavaliers. Despite their efforts, the Cavs were unable to make a comeback against Lake Travis, with a final score of 5-0.

The Cavaliers will have another chance at beating Lake Travis when the two teams play in the second game of the series on Friday, May 22, at 2:00 PM. If necessary, a third game will be played on Saturday, May 23, at 11 AM.