/

/

Cypress-Woodlands Junior Forum and Humanitarian Peanut Butter Canning Project
Cypress-Woodlands Junior Forum and Humanitarian Peanut Butter Canning Project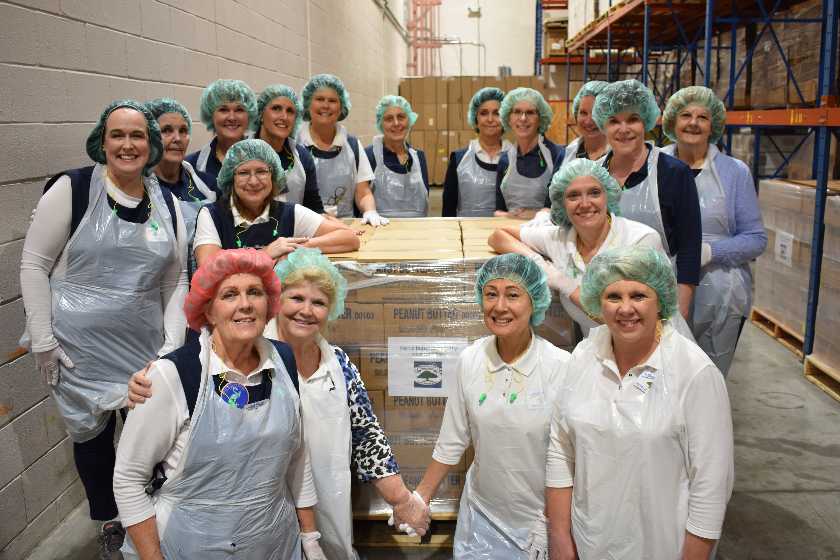 THE WOODLANDS, Texas - Seventeen members of the Cypress-Woodlands Junior Forum (CWJF) recently volunteered with the Humanitarian Peanut Butter Canning Project. The volunteers worked a four hour shift and produced 6,732 jars of peanut butter. The service program is a popular one for CWJF. Members enjoy being a part of the assembly line and working on achieving the goal for the day.

The state of the art Peanut Butter Cannery, located at 16333 Hafer Road, Houston, is owned and operated by The Church of Jesus Christ of Latter- day Saints. The Church has been a supporter of the Houston Food Bank for over a decade. Peanut butter is the most requested item, as it is nutritious and requires no refrigeration. The Project's goal this year is to produce one million jars of peanut butter for worldwide food banks and Feed America programs.

Cypress-Woodlands Junior Forum is an organization of women dedicated to providing volunteer services, leadership and philanthropy to enrich the communities in North Harris and South Montgomery Counties. CWJF partners with agencies, schools and corporations to fulfill identified needs in education, interaction with an aging population and support for people with disabilities.

CWJF is a 501(c) (3) non-profit assistance organization and a recognized chapter of Junior Forum, Inc. Since 1982, CWJF has been welcoming new members interested in serving the community with other like-minded women with a heart for service. For more information on joining CWJF or to make a donation, call 281-379-1391 or visit www.cwjuniorforum.org .