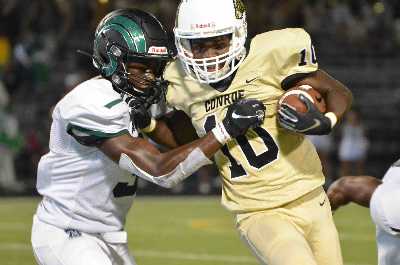 CONROE, TX -- The Mayde Creek running game pummeled the Conroe Tiger defense Friday night with an assault led by overpowering running back Julius Loughridge. With a steady diet of runs up the middle and jet sweeps to the outside, the Tigers had little answers for a Rams squad that gained nearly 300 yards on the ground.
Rams RB Loughridge pummels Conroe's defense
"We knew it was going to be a physical game, but I trusted the big boys up front to get me to the top," said Loughfield.
"I've been grinding all summer to improve my stamina and strength, it got me through the fourth quarter."
Tied 14-14 at halftime, Mayde Creek would break the game open with three touchdowns in the third and early fourth quarter with the wind to their back. The Rams would outscore the Tigers 21-8 in the second half to finish the game off, typically with a steady diet of run plays.
"He (Loughridge) was a steady influence in the back field," said Mayde Creek head coach Mike Rabe.
"We knew if we could get control of the game in the second half, we would feed it to him. He's a big presence for us back there, good blocker, huge team guy for us."
The lone bright spot for Conroe was the passing tandem of QB Christian Pack and WR Michael Phoenix as they accounted for two touchdowns and 146 yards receiving.
Next up for Mayde Creek is a home game versus Fort Bend Austin next Friday, Conroe (0-1) travels to Aldine Davis for a Thursday game.