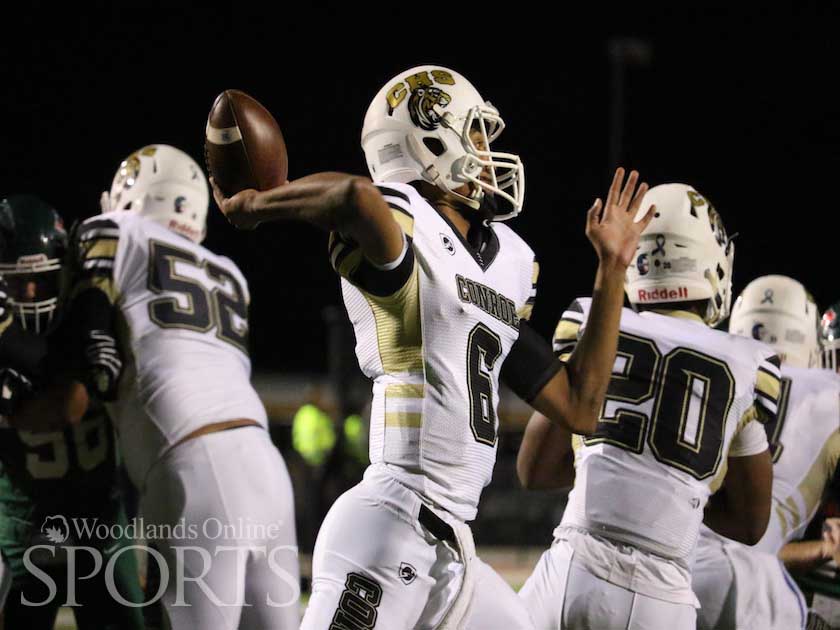 MONTGOMERY COUNTY, Texas -- Coach Robert Walker and his Tigers had a long season last year, as it was a rebuilding year for the Tigers and ended the Robert Walker era.

With their first win of the season and district coming against College Park who also had a 1-9 rebuilding year, it was a very sub-par year for the Conroe Tigers.

Since Robert Walker got to Conroe High School in 2013 there has been some tough seasons, especially in the winning column for the Conroe Tigers: finishing 4-6 in Walker's freshman year, 3-7 in his sophomore year, 5-6 in his junior year, and 3-7 in his senior season.

Some would say this is a make-or-break season for the Tigers who haven't smelled CISD playoffs in ten plus years, since Roger Holtkamp's departure in 2013.

Cedric Hardeman is the new man on campus, and like most of the head-coaching changes, everyone is hopeful that this could be the change to propel Conroe High School into the playoffs.

In Hardeman's speech at the Conroe Noon Lions Club in early August, he expressed three major theories that he's going to implement to change the program. "Change the culture is one, the second thing we can do is set high expectations, the third thing we can do is relentlessly pursue successful habits."

On the defensive side Coach Hardeman specified he needed leaders this year, with the Nike endorsement contract for Buddy Moorhead Stadium, the swagger, mentality, and toughness needed to change. He talked about one of his favorite defensive players on his team, cornerback Coco Snead, who is a two-year starter and is slated to be a D-1 Athlete in Hardeman's eyes.

The reports about Coco Snead are that he's changed his whole approach to the game this summer and offseason, and really worked hard on his character to be a leader for that defense.

High School wide receivers are like gas station scratch-offs, it's a hit or miss when you talk about someone. One year they are on top; the next season could be an injury, or a down year for the whole position in the depth chart. For the Conroe Tigers, Michael Gutierrez (Wide Receiver) should be that winning scratch-off, from watching his clips and seeing him in action, he is the real deal for the city of Conroe.

With the spread offense being applied for the first year in Conroe history, he will be the pivotal bishop role. Like in chess, he will move diagonally up and down the field until he's too tired to be on the field.