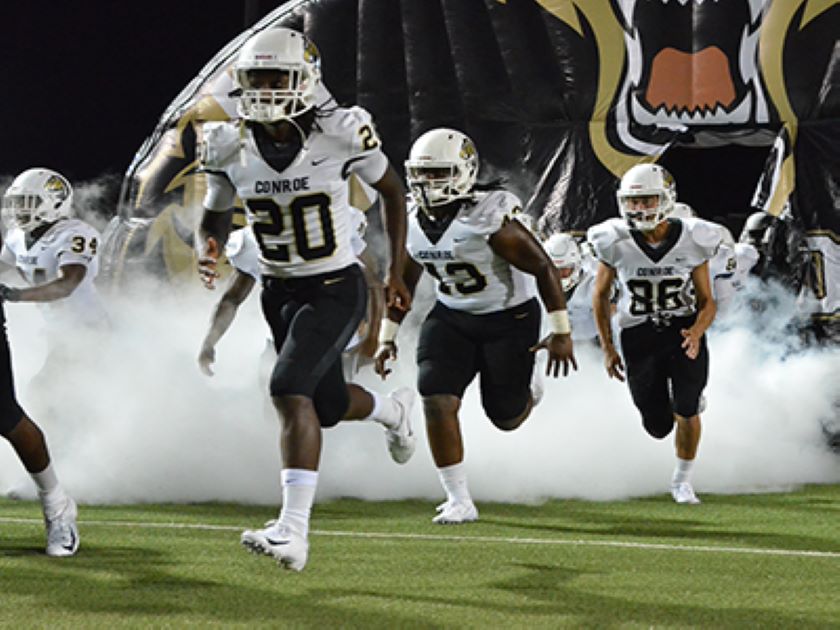 CONROE, TX -- Its never too early to think playoffs in District 15-6A and this Friday night's contest pitting Conroe vs Klein will have major playoff implications later this season.
Midseason game could determine playoff spot
Both teams enter with only one district loss and a win will set the course for an inside track for late November playoff seedings.
"You can probably design a pretty elaborate game plan going up against Conroe's offense but if the kids can't play fast you're probably not going to do very well," said Klein head coach Shane Hallmark on this week's "Conroe Sports Report" podcast.
"We're going to keep it very simple, they're very good at what they do, and believe me they have our respect. We have to keep our defense simple and allow them to play fast."
Klein comes into the contest after an open week where they lost to Klein Cain 42-52 September 20. Conroe beat the same Cain team 58-55 in a shoot out last Saturday but one should not use this as a measuring stick as both teams are evenly matched.
Both teams offer high powered offenses with the district's top two quarterbacks in Conroe's Christian Pack (1,937 total yards, 22 TD's) and Klein's Bryce Corriston (919 yds passing, 9 TD passes). Conroe also brings the top two receivers in Michael Phoenix (764 yds Rec, 11 TD's) and Marcus Thomas (330 yds Rec, 4 TD's).
This game sets up for an old fashion shoot out.
Team defense will be an issue as Conroe gave up 600 yards to a solid Cain team last week and Klein is ranked as the seventh-best defense in District 15-6A, giving up 415 yards a contest.
The stat machine will be smoking this Friday night as we most likely will see another 100 point contest.
"It a fun league," said Hallmark, "this is why you coach. I couldn't imagine it would be much fun if you had a cakewalk every week. This is a great league to be in."
Kickoff is 7 p.m. Friday night at Buddy Moorhead Stadium in downtown Conroe.
To listen to this week's "Conroe Sports Report" podcast click the link below
http://bit.ly/CRS_Week5