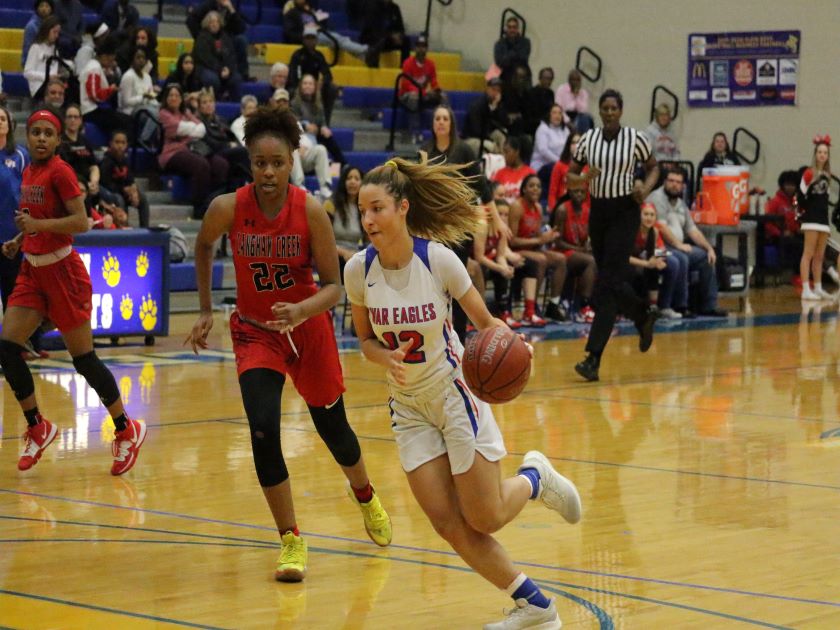 THE WOODLANDS, TX --

Langham Creek 68, Oak Ridge 64

The Lobos were able to hold off a second-half surge from the War Eagles to advance to the regional quarterfinals vs Hendrickson. After an early 7-6 lead, Oak Ridge found themselves trailing all night. Langham Creek's lead hovered around nine to 11 points until the War Eagles made a push in the fourth quarter. Oak Ridge made things interesting around the five-minute mark when Mersadez Nephew hit one of her four three-pointers on the night to cut Langham Creek's lead down to one. The Lobos would shut the door on a late-game comeback by immediately going on a run out of the timeout to keep Oak Ridge just out of striking distance for the rest of the quarter. Nephew led all scorers with 28 points. Nikki Petrakovitz (15) and Kayla Alford (7) round out the top scorers for the Lady War Eagles. Oak Ridge finishes their season with a 29-5 overall record, 14-2 in district to earn the 15-6A district title.

Hendrickson 56, Conroe 36

Offensive struggles and too many turnovers kept the Lady Tigers from advancing past the Area round. Conroe was cold offensively on the night and found themselves down double digits quickly. Hendrickson's press put Conroe in tough spots all night and the team was never able to find an answer to turn things around. The Tigers were led by Tiarra Howard's 10 points, Lilly Rodel added another eight. Conroe finishes with a 19-16 overall record.