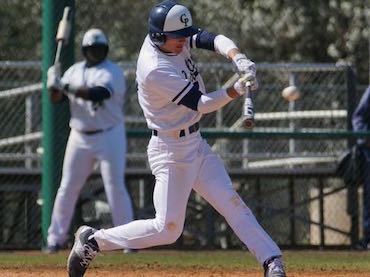 THE WOODLANDS, Texas - Noah Vaughan proved to be a one-man wrecking crew last night, going 4-for-5 at the plate with four RBI's, including a walk-off line drive single to left field in the eighth inning that scored Tyler Mortenson, to cap off a 4-3 comeback on Senior night, Tuesday night.

College Park (21-4, 8-3) got all four RBI's from Vaughan along with a 3-for-4 nights at the plate from Aric Wilson and Chandler Morris, respectively to lead the Cavaliers offense. Tyler Mortenson went 2-for-2 with two walks and a run scored.

Trailing 3-0 in the bottom of the seventh inning, Chandler Morris led off the frame with a single to left field. Mortenson walked, and then Nate Fisbeck reached on an infield error by Kingwood, scoring Morris to cut the lead to 3-1. Vaughan singled on a hard ground ball to center field, scoring courtesy runner Jaxon Price and Fisbeck to tie the game at 3-3. The Cavaliers looked to win it in regulation after Roosevelt Henderson walked and Aric Wilson singled to right field to load the bases, however Vaughan was out at third base trying to advance home as he slipped on the wet ground.

College Park, in fitting fashion completed the comeback in the bottom of the eighth when Chandler Morris tripled, then Mortenson was intentionally walked, and Preston Dupree was hit by the pitch to once again load the bases with one out. Fisbeck reached on a fielders choice to third base as Morris was out at home, keeping the bases loaded with two outs for Vaughan. Vaughan capped off Senior night with a line drive to left field to win it in comeback fashion.

The Cavaliers also got another stellar starting pitching performance from Texas-commit Beau Ridgeway, as he went six innings, scattering seven hits, one earned run, two walks, and five strikeouts.

Parker Hudson got the win for the Cavaliers as they scored three runs in the bottom of the seventh to send the game to extra innings, only to walk-off with the win in the eighth. Hudson pitched two innings and gave up just two hits with one walk and two strikeouts to the eight batters he faced.

The Cavaliers will close out the regular season at Conroe on Friday, May 1, at 7pm, before opening up the postseason next week.