/

/

Mr. Rooter owner one of top donors for MCABW Scholarship Drive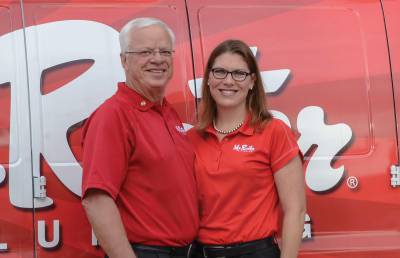 THE WOODLANDS, Texas – The Montgomery County Association of Business Women (MCABW) is proud to announce Natalie Saikowski-Goertz of Mr. Rooter Plumbing as an underwriting sponsor for their Spring scholarship drive. The MCABW "Let's Roll" scholarship drive will help deserving female graduates of Montgomery County high schools to attend Texas colleges and universities.
Owners of award winning plumbers believe in the power of education and community
To qualify as an underwriting sponsor, an MCABW member must donate at least $1,000 to the scholarship drive. Saikowski-Goertz and husband, Roger Goertz, own the franchise territory of Montgomery, Harris and Fort Bend Counties for Mr. Rooter. Saikowski-Goertz was passionate about the opportunity.
"College education is important for today's women because it serves as a gateway to better options and more opportunities," she said. "Valuable resources are gained through the college experience, such as developmental opportunities and exposure to higher level/more complex thinking. Through social opportunities, one will learn how to interact with a wide range of personalities, potentially take on leadership roles, and make personal connections that will become part of your sphere of influence for years to come."
As a full-service plumbing company, Mr. Rooter became a household name in 1991 throughout the local community. The Montgomery County area was growing, and with new opportunity, new homes were springing up everywhere. Most of the plumbing services were focused on new construction and gearing up to service these new homes. It was more difficult for older homes to get the services and parts they needed. Mr. Rooter saw a need and filled it, and the Goertzes took over as franchise owners in 2003. Saikowski-Goertz explains that two things made Mr. Rooter an area success—excellent customer service and new technology.
"One of the most revolutionary items was a drain camera," she said. "When inserted into a problem drain, you could see if there was root intrusion, broken fittings, cracked pipes and other issues. Mr. Rooter was also the first to have a high pressure water machine known as a hyrdro-scrubber that would scrub the interior of a drain line leaving it 95 percent new and clean."
The goal of Mr. Rooter has never been just to fix it up all nice and dandy and then step away. They want to be experts who can help the homeowner extend the value and life of their plumbing systems.
"We not only want to be the plumber who walks in to fix a problem, but to better relate as professional technicians, explain available solutions and treat our customers with a greater level of respect. Our management team encourages our technicians to ask exploratory questions so they can diagnose and resolve problems in a timely manner for our customers," she said.
Mr. Rooter has gone on to be recognized as industry leaders putting them among the strongest plumbing companies in the community. They have earned numerous awards in the last decade including Rookie of the Year Award in 2005, and Personal Achievement Awards in 2006, 2007, 2009 and 2011.
The Goertzes were awarded Top Gun Awards in 2006, 2007, 2008, 2010, 2011, 2012, 2013, 2014 and 2015. This prestigious honor is only given to top 10 percent Mr. Rooter franchise operations nationally, including Canada. Last year, they received Mr. Rooter corporate's highest honor, the Pioneer Award, of which only five have been awarded in the last 29 years. But, like many people, Saikowski-Goertz admits the journey toward success wasn't easy.
"My entire education career from elementary school through college was spent battling Attention Deficit Hyperactivity Disorder and taking medication to help me get through each day," she said. "After college, I threw my Adderall in the trash and told myself that I had to find a way to get through each day on my own and without being dependent on medication."
She encourages young women to believe in themselves and push to achieve. "Through perseverance and determination, I have taught myself ways to tackle and complete tasks both personally and professionally, even though staying focused to complete a task is often difficult for me."
Saikowski-Goertz loves what she does as a small business owner. She enjoys serving others and helping homeowners feel good about themselves and their homes.
"I love telling others about something I believe in," she said. "It has been a fun journey educating both men and women about plumbing dos and don'ts. One of my favorite questions to ask people is, 'Did you know that you must have your water heater flushed annually by a third party plumbing company in order to maintain your manufacturer's warranty?' They typically respond by saying no and that they have never had their water heater flushed."
The second annual MCABW scholarship drive will be held at the Volkswagen of the Woodlands. Last year's event raised on $12,000 in scholarship donations, and this year they hope to raise even more for young women poised to make a difference in the community. The event will be held on April 7, 2016 from 6:30-9:30 p.m. Tickets are $50 per person, with the ticket proceeds going directly to the scholarship fund. For more information, please visit www.mcabw.org.