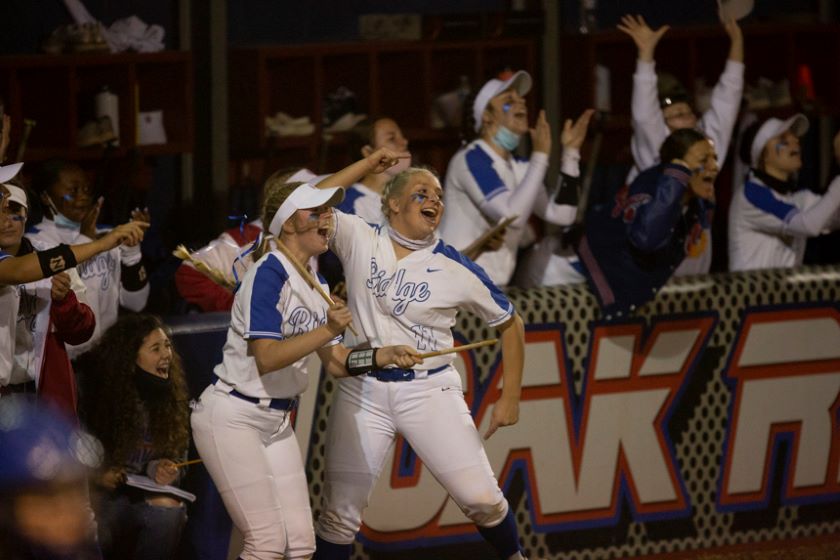 CONROE, TX -- Tuesday night's game was the softball version of the "how it started, how it's going" meme. Going into the bottom of the third inning, Klein held a 7-0 lead. It had all the makings of an off night. Chilly weather, quiet atmosphere early on, Oak Ridge easily could have switched off and moved on to the next game. Instead, the War Eagles put up four-plus runs in three separate innings to turn the seven-run deficit into a 13-10 victory.

Second baseman Cheyenne Conway finally woke up the Oak Ridge bats with a leadoff triple. An error helped Bella Mazur reach first base and brought Conway home for the War Eagles' first run of the night. Sam Graeter hit the top of the center-field wall with a nice drive that resulted in a two-out double. Then, Morgan Dutton recorded the first two of her eight RBIs on a double down the left-field line. Alyssa Lyons completed the sudden offensive explosion with an RBI single to make it a 7-4 game after three.

After two scoreless innings, Klein and Oak Ridge combined for eight runs in the sixth to revive the drama. Klein took a 10-4 lead into the bottom of the sixth, but the War Eagles showed their resiliency once again. A pair of walks, a passed ball, and an error gave Oak Ridge their fifth run on the night with two runners still on base. Dutton stepped up again with a three-run blast to cut Klein's lead down to two runs. The bats didn't cool off as Abby Henderson came to the plate and smacked a two-out, solo homer to make it a one-run game going into the final inning.

In the bottom of the seventh, down to their final out, Oak Ridge had just enough magic left in their bats. Kaitlynn Martinez walked, and Ariel Redmond clutched up an RBI double to tie the game at 10. Another walk sent Graeter to first, bringing Dutton to the plate with the game on her bat. If Klein didn't know already, the Bearkats messed around and found out that Morgan Dutton is a game-changing player. Her three-run walk-off homerun completed the comeback and gave Oak Ridge their fourth win of the year (4-3).