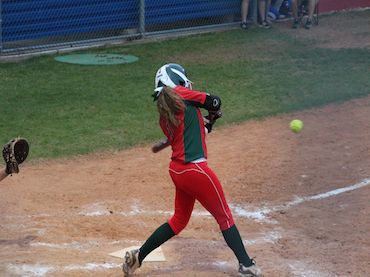 ATASCOCITA, Texas - The Woodlands Lady Highlanders softball team rallied from a 2-0 deficit to prevail 5-2 over No. 1 Atascocita in nine-innings on Thursday night.

The Woodlands (19-2, 7-2) was down 2-0 after the Lady Eagles got two runs in the bottom of the fourth inning off three hits in the frame. Those three hits were the first hits in the game for Atascocita off Lady Highlanders starter and Baylor-commit Abby Langkamp. Langkamp went five innings, giving up just four hits and one earned run while striking out five with no walks.

The Lady Highlanders responded in the top of the sixth, when the offense got going when Kaitlyn Stavinoha hit a line drive single to left field that scored Alayis Seneca to cut the deficit to 2-1. Stavinoha then scored off an Emily Langkamp infield single to tie the game at 2-2.

Atascocita and The Woodlands would then battle for another two-and-a-half innings when the Lady Highlanders started a two-out rally in the top of the ninth inning, started by a Kerry Martinez single to center field and then Kayla McCallum reached on an error that got Martinez to third base. Aubrey Leach then got the go-ahead RBI single to center field, scoring Martinez to give The Woodlands a 3-2 lead. Freshman sensation Alayis Seneca stepped up big then doubled to the gap in left field scoring McCallum and Leach to give the Lady Highlanders some insurance support with a 5-2 lead.

Emily Langkamp pitched four outstanding innings in relief, as she allowed just two hits, to the 13 batters she faced with no walks and two strikeouts.

With the win The Woodlands is in a first-place tie with Atascocita at 7-2 in District 16-6A, and will host cross-town rival College Park on Tuesday, April 7, at 6pm, in a game that can be seen live on Woodlands Online.