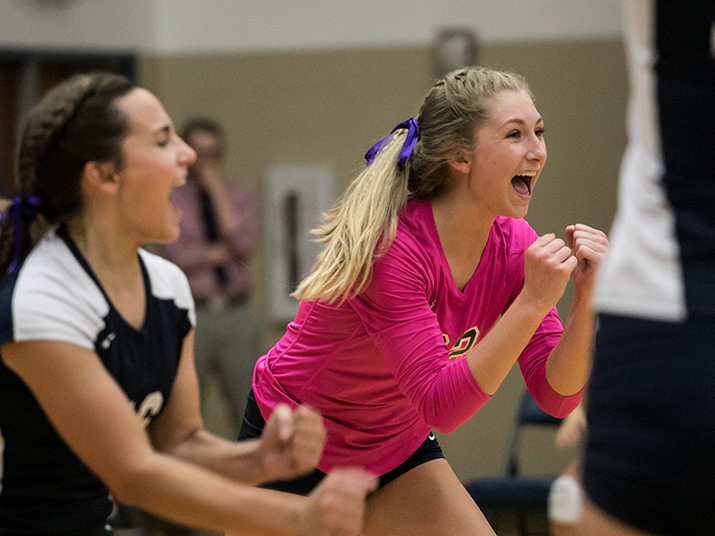 THE WOODLANDS, Texas — The College Park volleyball team ended a four-game losing streak as they swept Brenham 25-17, 27-25, 25-10.
Watch the highlights from the game.
After a quick 25-10 first-set victory for the Lady Cavaliers, it seemed that the second set would go similarly. Up 17-10, College Park saw a tough Brenham defense close the gap and pull ahead. Trailing behind each other through several long rallies, the Lady Cavs and Lady Cubs fought neck-and-neck until College Park finally pulled ahead and took the set in a close 27-25 victory.
Not losing their focus, the Lady Cavs came back in the final set strong and held Brenham down by 10 or more points for the majority of the third game. College Park relentlessly held their ground and ended the game 25-10 in a sweep.
"We tend to kind of go up and down, but I was really proud of the girls for pulling it out in the second game," Head Coach Candace Collins-Gibson said. "That was huge, and then coming out in the third came and staying focused and taking care of it—that's something we've been working on. I feel like once they got ahold of the second game, they played the third game and it was good. Eliminating those errors and staying focused was very good for us."
While they celebrated a long-awaited win, the Lady Cavaliers used the game to raise awareness for teenage suicide for National Suicide Prevention Week. Decked in purple socks and ribbons, the girls honored the memory of Cassidy Hess, a College Park student who completed suicide last year.
"One of the girls is really, really close with the cheerleader that had committed suicide last year, so it hit our program pretty hard as far as that group of kids that were friends with her," Collins-Gibson said. "It's important for us to take a stand and show that all lives do matter, no matter what. It means a lot to our cheer squad, and they come and cheer for us. It's all that we can do to show our support back. The girls were happy to do that."
The Lady Cavs will play at Katy Seven Lakes next Tuesday, September 15.