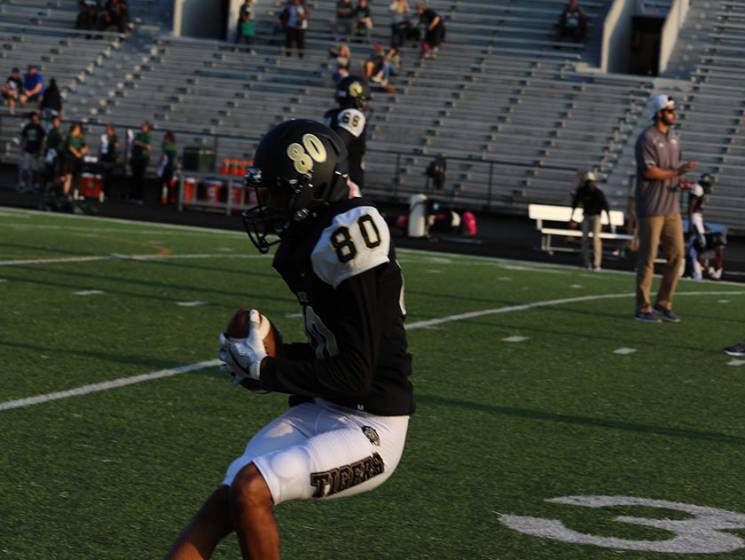 THE WOODLANDS, Texas--- The Conroe Tigers head into week two looking to bounce back after a tough home opener against Huntsville. This Friday the Tigers take on the Brazoswood Buccaneers at Hopper Stadium.
In their first game of the season, the Tigers showed they have the talent on offense but still need to find their chemistry. Against Brazoswood, finding better ways to involve their playmakers will be key to opening up their offense.
Wide receiver Jon Jones proved to be a significant threat, with over 60 yards on the night. Jones also showcased his unmatched speed in the return game, consistently setting up his offense in a favorable position. Looking forward the Tigers will need to give their playmakers, like Jones, more opportunities with the ball in their hands.
On the other side of the ball, the Tigers will be tasked with stopping Buccaneers quarterback Lane Caballero. The Buccaneers offense incorporates a lot of quick throws on slants and screens. Caballero has the ability to make decisive and accurate throws for easy completions and they have a talented wide receiver core that can make plays in the open field.
Tigers defensive linemen, #90 Alen Barrera and #92 Dominique Ratcliff, need to apply pressure to Cabellero early and often to throw him off his game. Coming off two very good performances in week one, Barrera and Ratcliff will have to be even bigger factors in this match up.
The Buccaneers also have a pair of talented running backs in their back field, #24 Aj Casas and #18 Jae'den Seaberry. Both of them are smaller, shifty guys, who look to cut to the outside and beat defenses with their speed. This is a big matchup for the Tigers cornerbacks; they will need to play strong defense outside of the numbers in order to shut down this rushing attack.
This should make for a great match up in week two of the 2017 season. Kickoff is at 7:00 pm on Friday, September, 22nd