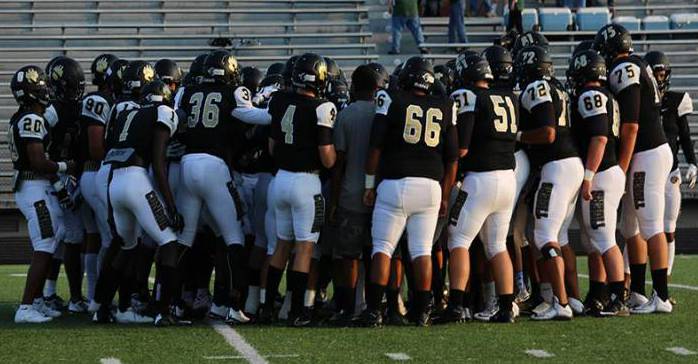 CONROE, Texas--- The Conroe Tigers and the Huntsville Hornets opened their season in front of a packed house at Buddy Moorhead stadium this Friday night.
The first quarter was an absolute defensive battle. On the first drive of the game the Hornets opted to go for it on 4th and 2 at mid-field. Conroe cornerback Davian Sneed intercepted Hornets quarterback Jayce Elliot's pass intended for #81 Nathan Shirley streaking down the right sideline. On their very next possession Tigers #12 Tim Roman laid a huge hit on the Hornets ball-carrier, forcing a fumble at the 40-yard-line. Despite the Tigers defensive effort, the offense could not capitalize on their opportunities; ending the quarter with three punts and an interception thrown to Hornets defensive back Dedric O'Bryant.
The first score of the game came early in the second quarter on a blocked punt by #90 Alen Barrera. Barrera not only made the block, but also had the awareness to track down the football in the back of the end zone to put six on the board.
The Tigers put themselves up 14-0 half way through the second quarter, courtesy of a beautiful pass from Black, who found wide receiver Jalen Allen streaking down the left hash.
On the very next possession the Hornets punched back with a wide receiver reverse to #10 Jordan Baker, who took it 65 yards into the end zone. Unfortunately, Baker's incredible touchdown run marked the beginning of end for the Tigers, as the Hornets offense would go on to explode for 41 unanswered points to finish the game.
Hornet's running back Jaeryne Green led the way for his offense, ending the night with over 70 yards and four touchdowns. Green's first of the night was punched in from the 1-yard-line after he set himself up on the play before with a 38-yard burst up the middle of the field. All of Green's touchdowns came in short yardage situations along the goal line and he proved to be virtually automatic in that area of the field.
Despite a rough showing for the Tigers offense, running back Donaven Lloyd, the Woodlands Online player of the game, was able to run for over 70 yards on just 15 attempts. Lloyd also showed his ability to catch the ball out of the back field after turning a quick dump off pass into a 29-yard gain. Lloyd is a dynamic player and will continue to be the key to the Tigers offense this season.
Despite a strong start from the Tigers, the Hornets offense took over in the second half and never looked back, ending the game with a 41-14 blow-out victory.
The Conroe Tigers look to bounce back from a tough loss on the road against Tomball Memorial September 29th.