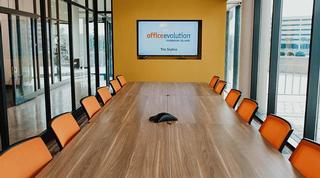 THE WOODLANDS, TX -- Business workplaces have changed as much as we all have during the pandemic. Business closures, working from home, school classes held virtually, and many corporate offices are deciding if it is worth the expense to rotate hours of staff, sanitize the office throughout the day, and pay the overhead of even having the building.

Coworking is a viable solution. The pandemic has not disappeared and so many employees and entrepreneurs have been working from home since March 2020. Do you really need an office? Zoom and remote meetings are here to stay. If you eliminate the drive time to an office and focus on working from home or an office close to home, it is likely the working hours are more productive when you travel less.

Working from home does have its limitations with distractions from pets, children, and lack of concentration with everything that may go on during a workday. Face to face interactions are still important to build relationships key element to business success. You want to maintain a professional environment during Virtual Conference calls, job interviews and to invite collaboration with possible professional partners.

Companies are already starting to downsize office space, advance technology systems, and embrace virtual working. Schools and offices will no longer squeeze more people into small spaces. It just will not happen. People are forever changed to be cautious. An alternative professional work environment is a simple solution. Less worry about staying healthy. Convenience of being close to home.

Phil Anderson operates a flexible office space facility, Office Evolution. He is seeing the trends heighten in the suburban office market.

"Enterprise-level corporations are evaluating the long-term shift to their traditional leasing and office infrastructure. Mid-size and small companies are giving up their traditional brick-and-mortar offices and are starting to utilize flexible office space, such as Office Evolution, to reduce their overall expense," said Phil "By going with a flexible office space these companies are gaining the advantage of less expense in terms of conference rooms, telephone answering service charges, and on-site personal office space. The model that is gaining ground is to have 1-2 personnel in a more permanent flex office space and the rest of the personnel working from home."

If your business hosts events or sees clients in an office, the workspace offered at Office Evolution is ideal. The offices are designed in contemporary bright colors with windows that allow for natural lighting, unlike traditional corporate office space. The training/conference room is a beautiful contemporary space with 105 -inch white board and 75- inch Smart TV. Guests are always welcomed by a friendly receptionist at the front desk as they enter.

Each office space has their own key to their locked furnished office, phone number, personalized voicemail, live phone answering service, private mailbox with physical address, secure Wi-Fi internet service, meeting rooms, and a shared lounge area with a community kitchen. Members can access their workspace 24/7 at the home location or any of the 63 Office Evolution locations nationwide. Postal services, a business address, phone services and printing options are available upon request.

Office Evolution is located at 525 Woodland Square Blvd off FM 1488 in the Marcel Town Center. With over 400 parking spaces and 6 restaurants, tenants leasing office space are never inconvenienced looking for space in a garage or leaving for lunch. The office areas are safe, sanitary, and CDC protocols are mandatory. Masks are required in common areas with plenty of room to practice "Social Distancing".

New for 2021 is the ability to start your own podcast with all the equipment you need included. The pandemic has changed the way businesses market. Gain the edge on your competition with new opportunities by updating your technology presence! A special introductory offer provides new office members with a two-hour/month allowance to use the podcast studio.

"Our purpose at Office Evolution is to see you grow and prosper, without having to worry about the back office operations", said Phil Anderson. "Office Evolution is your business family away from home, or as we like to call it, OHANA Hawaiian for big family. We are dedicated to making your dreams come true. We ARE a business- but we are a 'family' business since we are a network of local owner operated locations 70+ locations nationwide. We help you by providing services and community that interact together."

So are you a Dreamer, Risk Taker, or Doer' ™ - IF SO-come see us at Office Evolution- Conroe/Woodlands

For more information about Office Evolution-The Woodlands visit www.officeevolution.com/locations/woodlands or call 936-270-1150.