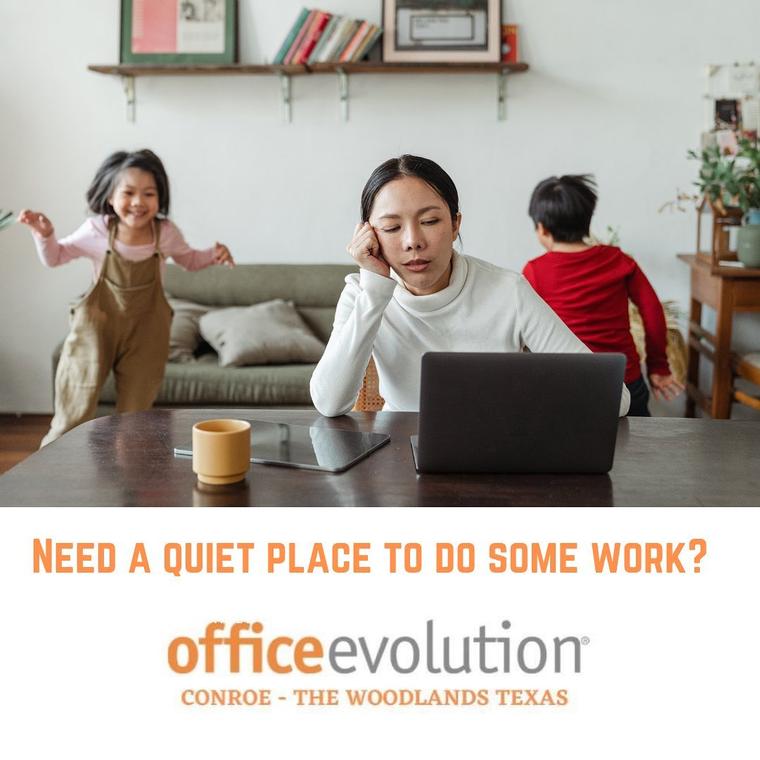 CONROE, TX - Are you ready to go back to work (not from home)? Is your drive to Houston taking valuable free time away from you? There is an answer! Office Evolution/The Woodlands is holding a contest to win a private office space for three months.

Office Evolution offers convenient office suites and micro-offices to enable business entrepreneurs and business minded individuals to have their own office space. Guests are greeted by a smiling Business Center Manager with incoming phone calls answered by a live answering service. Every business receives their own key to their locked furnished office, phone number, personalized voicemail, a private mailbox with a physical address, secure Wi-Fi internet service, meeting rooms, and a shared lounge area with a community kitchen with courtesy coffee and tea always available.

New this year at Office Evolution (OE) is the Podcast Studio. Podcasting is a trend moving upward with alternative platforms and enlarged audiences. Individuals listen to podcasts to learn techniques to grow their business, improve their marketing skills, or hear their favorite authors and motivators. It is so easy to start up your own podcast with the right equipment and platforms for listeners.

OE can facilitate the process to start your own podcast with everything you need you need to promote your business as the expert in your industry. No experience necessary as members or guests of Office Evolution will have access to an In-Session Audio Engineer, Video/Livestream Engineer, Post Recording Editing, Publishing and Set Up for up to five online platforms including website graphics. Lots of possibilities for abundant growth to promote your brand.

Last Fall Office Evolution extended an essay contest to select two local nonprofits to win free office space for six months. The topic "What Free Office Space Would Mean to Me" awarded both Bears ETC and Thrive with Autism Foundation as the new recipients to the Office Evolution workspace. This allowed the organizations to work more efficiently without having to pay large overhead for a building. Although the free office space has expired, both organizations have renewed their leases.

"We are very grateful for the support of Office Evolution to allow Thrive with Autism to office here", said President Elizabeth Goldsmith of Thrive. We have found the offices clean, inviting, and very useful to have different sized conference rooms available for board meetings or committee meetings. We have renewed for another six months!"

Kati Krouse of Bears ETC mirrors the emotions of Thrive. "I love having an office at Office Evolution because it takes away the distractions of my home office," said Kati Krouse, Executive Director of Bears, ETC. "The people at OE are welcoming and always willing to help. When they say 'Ohana' they mean it. It is one huge "Ohana" family of business owners willing to help. The culture is true servant leadership. Stop by and see what business family really means".

Enter to win your office! Registration ends April 30. Register now: https://bit.ly/3v1045m

Office Evolution is available for meetings, networking events, or any other conference. Restaurants are available in the complex to cater your event. 'It's Four O'clock Somewhere' is every Third Thursday of the month offering mentoring from business coaches and corporate retirees sharing their experiences to build local businesses. With over 400 parking spaces and six restaurants, tenants leasing office space are never inconvenienced looking for space in a garage or leaving for lunch.

Discover the professional difference Office Evolution will make to your business by visiting 525 Woodland Square Blvd, Suite 250, Conroe at the Marcel Town Center located off FM 1488 west of the Xscape For more information visit www.officeevolution.com/locations/woodlands or call 936-270-1150. Follow them on Facebook, www.facebook.com/Office-Evolution-Woodlands.