/

/

Hurricane Ida Relief Drop Off at Office Evolution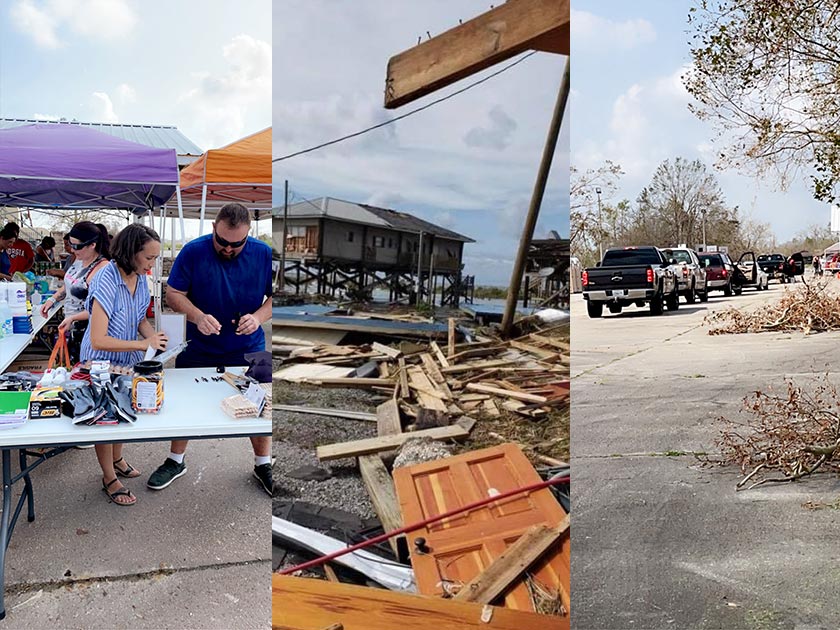 THE WOODLANDS, TX - There are few weather events in the southern United States that affect people and property as traumatic as hurricanes. Recently, Hurricane Ida plowed through several states, including Louisiana, exacting her violent winds and heavy rains on our neighbors to the east. When we hear of people needing assistance, our community always steps up to provide a helping hand. Office Evolutions, located off FM 1488 at Old Conroe Rd in the Marcel Town Center, is one of those local businesses that is helping to lead the community in these efforts. We have provided information and links below on how you can help Office Evolutions in their efforts. One person in particular from Office Evolution, Tina Matherne Asma, decided to kickstart the process of securing donations of money, food and other supplies to help Louisiana.

About Tina Matherne Asma

Tina Matherne Asma works for Office Evolution as a Business Center Manger for the Conroe-Woodlands area. She is from Louisiana herself and the idea of helping provide relief for Hurricane Ida victims is a project close to her heart. We asked her to tell us a little bit about why she is so passionate about this project. Her story is below:

"My name is Tina Matherne Asma. I was born and raised on Bayou Lafourche… Lockport, La which was severely damaged by Hurricane Ida… 50-60 miles north of Grand Isle / Port Fourchon where the hurricane category 4 made landfall.  When I heard of the horrific damage of my hometown, my high school, Central Lafourche High School, and Victory Life Church I felt helpless and was moved to do something to help my family and friends back home. So I started posting to social media with a GoFundMe account for donations and Philip Anderson of Office Evolution agreed to local drop off location for supplies. By Friday of last week I raised $1000 and over $2500 in supplies!"

Click here to view the Ida Relief photo gallery

Tina's counterpart in Louisiana taking direct donations and receiving packages as well. Her name is Michelle Gautreaux of Rise & Gouaux LLC. She is a Central Lafourche High School Alumni, a mother of three, as well and a small business owner in Lockport, LA. She's part of the Victory Life Church family who helped make sure we had a safe drop off point back home for all the supplies/donations collected here in Conroe, Texas. 

Please have supplies dropped off at Office Evolution by NOON Friday, September 17th

Click here to view Tina's Gofundme page

Tina delivers the donated supplied every two weeks. The following are donation items they are requesting people drop off at Office Evolution.

Address to Office Evolution Drop Off Point:

525 Woodland Square Boulevard
Suite 250
Conroe,   TX   77384
Click here for directions

Supplies List For Ida Relief Needed ASAP!


• Home Depot, Lowes, Walmart Gift Cards
• Tarps, tarp nails
• Bleach
• Cleaning products
• Work Gloves
• 55  gallon garbage bags
• Storage containers
• Big push brooms
• Gas tanks
• Food- canned goods, granola/protein bars, snacks, etc.
• Drinks- water (different sizes), Gatorade or Propel with electrolytes
• Baby Formula, baby diapers (all sizes), baby wipes, baby food
• First Aid kits 
• Bug Spray
• Sunscreen
• Notebooks, ink pens, envelopes
• Kid Learning/Activity books per grade level. 
• Books 
• Clothes/Shoes


About Office Evolution

Small businesses are part of America and make up over 47% of the work force. Small businesses vary in size, organization, and management style, but having a physical address and a professional place for potential clients to visit or hold meetings is the perfect solution for start ups or 2-3 office employees. Office Evolution is the contemporary, shared workplace provider now open at 525 Woodland Square Blvd, in Conroe off FM 1488 at Old Conroe Rd in the Marcel Town Center across from the Xscape theater.

https://www.officeevolution.com/locations/woodlands

With 50 separate office spaces and 7 micro-offices, businesses can have their own office space and a receptionist at the front desk. Each office space has their own key to their locked furnished office, phone number, personalized voicemail, live phone answering service, private mailbox with physical address, secure Wi-Fi internet service, meeting rooms, and a shared lounge area with a community kitchen. Members can access their work space 24/7 at the home location or any of the 63 50 Office Evolution locations nationwide, with a starting fee of $179 a month. Printing, copying, and scanning services are available for each member. Special services such as IPostale, Virtual Assistant and , yes, even a PodCast Studio are available for members at reduced rates.