/

/

MCABW mixer to be held at GenuWine April 10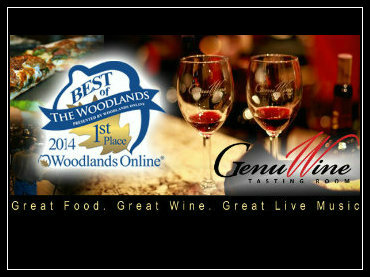 THE WOODLANDS, Texas -- The Montgomery County Association of Business Women (MCABW) will host their monthly mixer from 5 to 7 p.m., at GenuWine, on Thursday, April 10. The event will be co-hosted by GenuWine, Woodlands Online, and its affiliates Conroe Today and Spring Today.

The event will be held at GenuWine, located at 603 FM 1488, Suite #401, in Magnolia, 77354. Announcements and door prizes will start at 6 p.m.

Woodlands Online will be co-hosting the mixer with GenuWine. The community website has been serving The Woodlands and surrounding area for 17 years, providing current news coverage, sports updates and an events calendar.

Woodlands Online is the busiest community website in the Greater Houston area, which includes business, government, and residential websites. Woodlands Online is located at 33300 Egypt Lane, in the northwest area of The Woodlands.

The website recently named the number one bar during its annual Best of The Woodlands contest. GenuWine opened in 2010, offering boutique wines and now serving craft beers. They also sell wine accouterments and wine baskets. Live music is performed Thursday, Friday and Saturday nights, featuring the best in local and regional talent, and serve a wide assortment of gourmet appetizers, in addition to salads, sandwiches, pizzas and desserts.

During the MCABW mixer, GenuWine's sommelier Brad Fox will share his expertise with members of the organization.

Happy hour wines will be offered for $6 a glass, and complimentary refreshments will be served. At 6 p.m., business cards will be drawn for door prizes.

The MCABW is an organization that provides a forum for local businesswomen to develop and enhance professional and personal relationships with their peers. The group holds a mixer the second Thursday of each month as well as a monthly luncheon the fourth Tuesday of each month at Incredible Pizza in Conroe. Visitors are invited to attend two MCABW events before joining the organization.

For more information about MCABW, call Carol Gooch at 713-256-8002, or view the website at the link provided.