/

/

Manbasics Brand Launch Party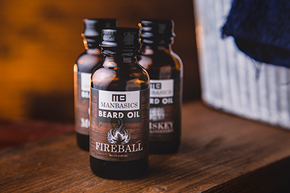 THE WOODLANDS, TX -- ManBasics is thrilled to be announcing the launch of their all natural and organic beard oil line by hosting a brand launch party on June 6th at Genuwine Tasting Room. The launch festivities will include a BEST BEARD COMPETITION to determine who can claim the title of 'Best Beard in The Woodlands'.
Best Beard In The Woodlands Competition
The festivities will begin at 7:00 and feature live music from local recording artist Marcus Eldridge. In addition to prizes in the Best Beard in The Woodlands Competition, there will be an extended happy hour, select half priced wine bottles, and door prizes. The Best Beard in The Woodlands Competition will be at 8:30 and will be judged by a former Houston Rockets Power Dancer.
ManBasics is launching their three beard oil blends that are handcrafted right here in the Woodlands and are all-natural made from 99% Organic Products . Each blend takes inspiration from a classic cocktail: The Mojito (featuring Mint and Lime essential oils), the Fireball (with loads of cinnamon of course) and everyone's favorite Whiskey Old Fashioned. The Whiskey Old Fashioned features Sandalwood to mimic the oak barrel aged whiskey, and of course orange essential oil.
"Our beard oils use nothing but all-natural ingredients. We leave out the fake ingredients and stick to the basics" says Co-Founder Tobe Bashor. "The amazing scents come from natural essential oils, not chemical fragrances. Our amazing scents are what really set us apart from other beard oils".
Blue Collar Beard Reviews called the Whiskey Old Fashioned blend 'one of the top five beard oils I have ever tried . . . and I've reviewed a lot of companies'.
Bearded men in the Woodlands will not want to miss the opportunity to be crowned the first Best Beard of the Woodlands in what is sure to become an annual competition. 'Of course, there will be plenty of fun for our un-bearded brethren', said CEO Damon Henrichs. 'Whether you have a beard or not there will still be great wine, great music, and a great time!'.
R.S.V.P.'s can be made to Genuwine Tasting Room at 832-934-CORK (2675)