/

/

GenuWine Tasting Room a great choice for lunch, complete with delicious menu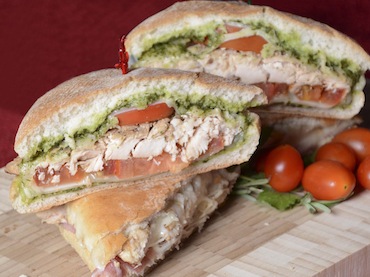 THE WOODLANDS, Texas - Conveniently located in between The Woodlands and Magnolia at 6503 FM1488, GenuWine Tasting Room has been providing a unique selection of wines and live music since 2010. Started by two best friends, Rhonda Redmon and Barb Salinas, their love for wine, food and music gave them the idea to open their own tasting room. Nearly five years later, GenuWine is now a unique and successful wine bar unlike any other.
Although known specifically for the wonderful selection of wines, craft beers, and local artists that perform, GenuWine also offers a full lunch and dining menu.
"It is a great place to go in the middle of the day," said Courtney Coats, Social Media Manager at GenuWine Tasting Room. "As soon as you walk through the doors, you find yourself in an calming atmosphere. It makes for a very relaxing lunch hour."
GenuWine's lunch menu offers a variety of items including flatbreads, stuffed mushrooms, desserts, and customer favorite, the Gluttonous Grilled Cheese Sandwich.
The tasting room is also complete with a banquet room that is available for rent for parties, sure to make any event a great time. Customers can even enjoy outdoor patio seating with heaters to keep warm during the winter months.
Staff member, Andrew C. Schlett reflects on the unique atmosphere at GenuWine, noting the sights, smells and sounds one would enjoy when walking through the doors with this written review:
Lunching at the GenuWine Tasting Room can certainly be a very memorable experience. Besides being greeted by a friendly, smiling, and wine-savvy member of the staff, one is also struck at first by the vast racks of bottles on the walls, accented here and there by small displays of wine-related gadgetry available for purchase. In another corner is a music stage, fully sound-boarded and lighted, offering the promise of some rollicking Friday nights when the band is up and jamming.
The room itself is large, compared to how it looks from the outside, cavernous and much deeper than expected, yet not a square inch of wall space is wasted without some sort of colorful festoon to catch the eye. By now one has been seated, provided with a cold refreshing glass of ice water, and is considering the menu options carefully. Another memory is about to be made here, as each and every dish is hand-prepared to order by the staff of the surprisingly good little kitchen in the back. Whether one selects something from the line of monster salads, tastebud-tingling herbed flatbread pizzas, or any of the scrumptiously succulent ciabatta bread sandwiches, the result will be a culinary excursion like none other offered up in these parts.
Those who have leisure of the afternoon are welcomed to stay and enjoy a glass or two of exquisite yet modestly-priced vintages along with their savory meal, but it is understood that many have jobs to return to after lunch, so a variety of non-alcoholic beverages are offered as well. If dessert is part of the day's plan, ask which cheesecakes or chocolate truffles might be available. Then, prepare to be surprised once again when the check arrives and confirms the affordability of a GenuWine lunch. Not only great food, but personal service, a warm ambiance and pleasant atmosphere all crammed into a very short hour. The only thing that could be better than lunching here would be to come back at night, when there's music, more food, and wine to be drank. That's pretty easy to remember!
Don't forget to swing by on Thursdays, Fridays and Saturdays for some great live music, 7:30pm-10:30pm!
Hours for GenuWine are as follows:
Monday: starting Feb. 16th (Presidents' Day) 3:00pm - 9:00pm
Tuesday: 11:30am - 10:00pm
Wednesday: 11:30am - 10:00pm
Thursday - Friday: 11:30am - 11:00pm
Saturday: 3:00pm - 11:00pm
Sunday: Closed
For more information about GenuWineTasting Room and to view the dining menu, visit the website provided below.